Saturday Scores: Bulls move into 1st place with road win
December 30, 2018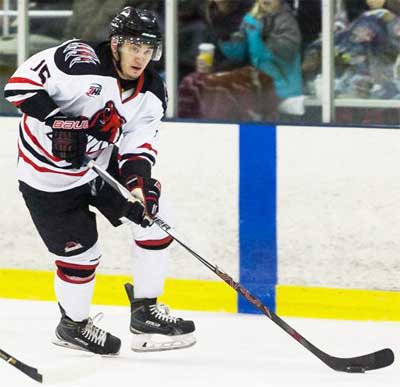 Wausau 0 @ Peoria 6 - Jaden Gardner turned aside all 15 shots against to backstop a stout offensive effort from the Mustangs as they toppled the Riverwolves 6-0 on Saturday. Connor Bennett set the tone with two goals on the night, joining Cody Layne (2a) and Nick Ulrich (2a) with multi-point outings. Jared Wisely, Brad Larson, Austin Keil and Brandon Hay found twine as well for the victors. Wausau's Alexandr Gilev stood tall in goal with 32 saves in the loss.
North Iowa 3 @ Rochester 1 - After an early Grizzlies goal from Brock Hildenbrand put the hosts ahead through twenty, the Bulls responded in a big way with three unanswered markers to take a crucial road win over Rochester on Saturday. Matt Dahlseide led the North Iowa resurgence with two goals, aided by an individual strike from Marco Escobar. Dysen Skinner took the win between the Bulls' pipes with 21 stops, while Liam Kelly faced down 26 pucks for the Grizzlies.
Willmar 1 @ New Ulm 3 - Much like the Bulls, New Ulm faced a 1-0 deficit after Andrew Pitleck helped the Warhawks take a first-period advantage before three Steel strikes gave the hosts the win. Jack Parks, Carson Sandwick and Keegan Bauman lit the lamp for New Ulm, who featured 13 saves from netminder James Royce. Lucas Ehrlich came up big for Willmar, stopping 45 of 48 pucks to keep it close.
Missoula 4 @ Helena 3 (OT) - After seeing his his teammate Misha Akatnov dominate Missoula's Friday night win over Butte, Vadim Zubkov had his day with a hat-trick -- including the overtime winner -- to help the Bruins slip past the Bighorns on the road. Trevor Prince put Missoula ahead early, followed by a pair of Zubkov markers to see the Bruins to a 3-0 lead at the halfway point. Elliot Plourde then responded for Helena with two goals in the middle frame, setting up Kaden Lindberg's third-period goal with five minutes left to force extra time. Zubkov needed just eight seconds in overtime to take a huge two points for Missoula. Josh Sample was a star in net for the Bruins, turning aside 39 of 42 shots that came his way. Carver Thompson stopped 27 of 31 in his own strong showing for Helena.
Great Falls 14 @ Butte 4 - Four different Americans potted two or more goals, and five more lit the lamp once as Great Falls romped to a 14-4 victory over the Cobras in Butte. Cody Dearing (3), Lindros Beard (2), Payton McSharry (2), Levi Mese (2), Brody Boyce, Jens Juliussen, Garrett Peters, Trent Cowden and George Nuutinen filled the goal column for Great Falls in front of a combined 28 saves for Drew Scites and Cam McIntosh. Butte recieved 27 saves from Casey Mattfeldt, while Wyatt Haakenson, Tyson Stovin, Will Shults and Brandon Lyons provided the Cobras' goals.
Yellowstone 1 @ Bozeman 4 - Sterling Morin set the Icedogs on the right path with two first-period goals and the team never looked back, dropping the Quake 4-1 on Saturday. Duncan McGarrah and Dalton Heimer also found twine, while Jack Harris snapped Mikael Levokari's shutout bid in the Bozeman cage with a late second-period goal for the Quake. Levokari finished with 19 stops on 20 shots, while Michael Allman was stout for Yellowstone with 48 saves on the night.