Oswego goaltender Burgess heads off to the NCAA
December 31, 2018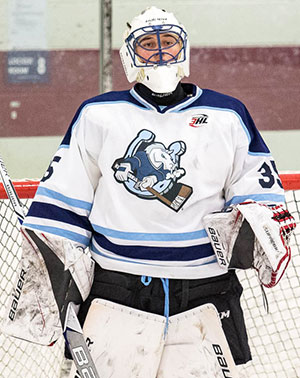 December has proven to be a big month for the promotion of Stampede players to the NCAA. Stampede goaltender Colin Burgess has committed to Kings College (NCAA Division III) and will join the team effective immediately.
Burgess, 20, who has helped lead the Stampede this season impressed Kings College coach to the point that they offered the twenty year old Goaltender from Langhorn, PA. a spot on their roster for second semester.
"Coach Mallaro came to get eyes on Mark Mannarn (Kings College, 2019-20) and was very impressed with Colin. About a week after committing Mannarn I received a call asking if I could part with Burgess for the second half of the season. My reply was for sure, as long as that is what Colin would like to do," said Stampede Coach Mike Beavis.
The Stampede pride themselves in moving players onto the next level of play and have helped a countless number of them to move on in their eight year history. So far this season the team has two NCAA commitments and a couple more that are in the process as well as a number of ACHA Division I offers that have been given to several players.
"Development and Promotion are the goals of our program, We are very pro-active with colleges at every level and work hard to place each player at a level of hockey combined with their academic needs," added Beavis.
Burgess began his collegiate career at Kings this past week and took to the ice for the first time with his new team. "It was good. A few small adjustments to be made, but I started to make some already by the end of the first day," stated Burgess.
"We would like to thank the Oswego Stampede organization and head coach Mike Beavis for putting Colin Burgess on our radar. Colin is coming to Kings College at an opportunistic time to start his college career. We look forward to helping him progress into a student athlete and having a successful college career at King's College," said King's Head Coach Stephen Mallaro.
Burgess went on to thank the Stampede program and Coach Beavis as well as to give Ray Welsh former owner of the Binghamton Jr. Senators credit for helping him along the way. The Stampede and Sens have a long history of helping each other to promote talent within their organizations as well as throughout the league. "We have to work together to help our players. This is something that several guys in the NA3HL have agreed is what is best for our programs and most important our players," said Beavis.
The promotion of Burgess in season is a huge deal not only for him but for the Stampede organization and the NA3HL. Mid-season promotions are rare from juniors to NCAA and Beavis has played a part in two of them over the past years. Both happened to be with goaltenders. The first being Tim Potter of the Oswego Admrials OPJHL to Clarkson University in 2007. Potter went on to play at Clarkson NCAA D-I, SUNY Oswego NCAA D-III and a short stint in the ECHL.