NA3HL announces Beauty Status Flow of the Month winner for November
December 31, 2018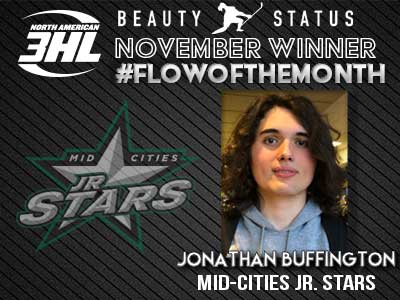 It's the most wonderful time of the year! Sure the holidays are fun, but we are talking about the latest winners for the Flow of the Month.
The Flow of the Month is brought to again by our partners at Beauty Status, the Official Hockey Apparel company of the NAHL and NA3HL. Beauty Status offers premium and genuine quality apparel with bold character inspired by hockey. Check them out online at: https://beautystatushky.com/
Coming Soon! Coming to an NAHL event near year you are the all-new NAHL hats made by Beauty Status. They won't last long!
Here is how it works: Players in the NAHL and NA3HL are encouraged to submit photos of their best 'hockey hair' or 'flow' via social media or email during the regular season using the #FlowoftheMonth hashtag. The selected winners from each league will receive a Beauty Status hat.
With that said, the NA3HL is entering the last two months of the season and past the midway point and we have one that stood out. The winner is Mid-Cities Jr. Stars defenseman Jonathan Buffington.
This is the first junior hockey season for Buffington, 17, in the NA3HL. So far in 21 games this season, the 6'3/210 lbs. native of Flower Mound, Texas, has five points (1 goal, 4 assists). Powell is also an alumni of the NAPHL, having played the 2016-17 season with HC Dallas.
Sometimes you have to go back to basics with the flow and Buffington keeps things simple here with some nice Herculean locks. He keeps it steady with some Spartacus salad that is flowing and feathered. Everything is bigger in Texas, including Buffington's flow, so keep on keepin' on Jonathan, you just won flow of the month!
Beauty Status Hockey Co. is the exclusive sponsor of the Flow of the Month promotion exclusively on the NA3HL and Beauty Status Twitter sites @NA3HL and @BeautyStatusHky
To enter the contest for the month of December, submit your best #FlowoftheMonth pictures by January 15, 2019 to @NA3HL and @BeautyStatusHky. Two winners will be selected on January 16, 2019. Winners will receive a Beauty Status hat.