January 4, 2019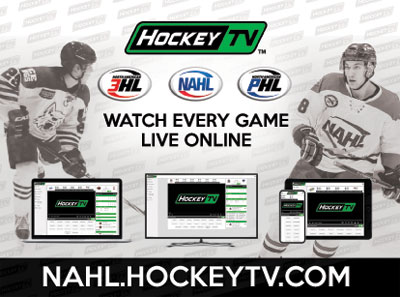 Just two months remain in the NA3HL regular season as the schedule gets back to normal this weekend with 34 action-packed games.
It is been a great week for the NA3HL, as players have signed NAHL tenders and others have made NCAA commitments.
The 2019 NA3HL Top Prospects Tournament is just over a month away and six divisional teams will take part in the event. Breakdown and rosters will be announced in late January.
Follow the games on the NA3HL App:
The 2018-19 season marks the ninth for the NA3HL, which is one of two USA Hockey-certified Tier III junior leagues. This past season, no other league has had more movement and advanced more players onto play in the NAHL than the NA3HL.
The NA3HL is also the only league that has an exclusive NAHL tendering system available only to NA3HL players. This sets the stage for a proven and quantifiable NA3HL-NAHL pipeline as the NA3HL continues to make their mark in advancement of players. A total of 51 former NA3HL players played in the NAHL during the 2017-18 regular season. In addition, 24 more current NA3HL players were tendered by NAHL teams to play in the NAHL for the 2018-19 season.
The NA3HL also saw over 150+ college commitments in 2017-18. Almost 70% of those college commitments were NCAA commitments.
FRI, JANUARY 4
Binghamton at Skylands - 7:10 PM EST
Louisiana at College Station - 6:15 PM CST
Evansville at Coulee Region - 7:00 PM CST
Peoria at Wisconsin - 7:15 PM CST
Alexandria at Breezy Point - 7:30 PM CST
L/A at Long Beach - 8:30 PM EST
Atlanta at Mid Cities - 7:30 PM CST
New Ulm at North Iowa - 7:30 PM CST
Willmar at Wausau - 7:30 PM CST
Great Falls at Gillette - 7:05 PM MST
Yellowstone at Helena - 7:05 PM MST
Bozeman at Missoula - 7:05 PM MST
SAT, JANUARY 5
L/A at Long Beach - 2:30 PM EST
Milwaukee at St. Louis - 4:00 PM CST
Atlanta at Mid Cities - 5:30 PM CST
New England at Northeast - 6:30 PM EST
Binghamton at Skylands - 6:30 PM EST
Oswego at Niagara Falls - 7:00 PM EST
Louisiana at College Station - 6:15 PM CST
Wisconsin at Peoria - 6:45 PM CST
Evansville at Coulee Region - 7:00 PM CST
Breezy Point at Alexandria - 7:10 PM CST
North Iowa at New Ulm - 7:10 PM CST
Rochester at Granite City - 7:30 PM CST
Willmar at Wausau - 7:30 PM CST
Great Falls at Gillette - 7:05 PM MST
Yellowstone at Helena - 7:05 PM MST
Missoula at Bozeman - 7:30 PM MST
SUN, JANUARY 6
Long Beach at Cape Cod - 12:10 PM EST
Evansville at Coulee Region - 12:00 PM CST
Northeast at New England - 1:10 PM EST
Oswego at Niagara Falls - 1:30 PM EST
Milwaukee at Peoria - 1:15 PM CST
Atlanta at Mid Cities - 2:00 PM CST