Friday Finals: Steel move into playoff spot with win over Bulls
January 5, 2019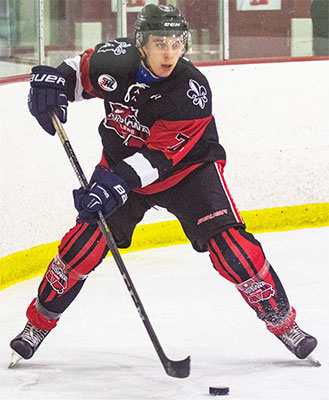 New Ulm 2 @ North Iowa 1 - Brendan Studioso lifted the Bulls to an early lead, but a pair of second-period Steel goals helped New Ulm notch a 2-1 upset win over North Iowa on Friday. Jacob Halvorson and Jarrett Cammarata scored the Steel strikes in front of a stellar 33-save showing by Henry Baribeau. Connor Poczos posted 20 saves in the Bulls' net.
Binghamton 5 @ Skylands 1 - Eric Melso and Markus Cook bagged two goals apiece as the Senators returned to winning ways with a 5-1 romp past Skylands after a disappointing 0-3 Showcase performance in December. Seth McArdle also tallied for Binghamton, while Jake Cicalese posted the lone Kings goal. Jeff Zero took the win with 43 stout saves, outdueling Josh Sears with 61 saves in the Skylands cage.
Louisiana 3 @ College Station 0 - Samuli Aarinen faced down all 28 shots that came his way as the Drillers shutout the Spirit 3-0 on Friday night. Alejandro Apud, Ivan Matveev and Benjamin Cope lit the lamp in the contest, potting a trio of tallies on 53 shots against College Station's Blake Forystek, who finished with 50 saves on the night.
Evansville 0 @ Coulee Region 19 - Jack Cooper stopped 74 pucks in the Thunderbolts' cage, but the Coulee Region offense was unstoppable on the night, featuring five multi-goal scorers and a shutout performance from Gunnar Snyder in goal as they breezed past Evansville 19-0. Aslan Akervik posted five goals, Thomas Magnavite bagged four, Brady Lindauer, Flavien Fondadouze and Matt Janke potted two apiece, and Donny Schultz, Blake Holmes, Brandon Ratzloff and Brock Zukowski rounded out the powerhouse Chill offense with individual tallies.
Peoria 3 @ Wisconsin 4 - Sam Hanson netted his second goal of the game with just under five minutes to play to cap off a 4-3 comeback win for the Whalers over the Mustangs on Friday. Justin Schwartzmiller and Jack Royer tallied as well for Wisconsin, while Austin Keil, Connor Bennett and Jack Radley provided Peoria's offense. Caleb Sauer and Kai Tomita combined for 41 saves and the win, while reigning Goaltender of the Month Jaden Gardner finished with 36 saves in the loss.
Atlanta 5 @ Mid Cities 1 - Five skaters found twine in a balanced showing for Atlanta as the Capitals toppled the Jr. Stars 5-1 in a South Division showdown. Riley Stern, Joey Lajcaj, Jason Ladzinski, Andrei Rusakov and Jesse Keicher each scored, while Quinn Yeager stopped 23 of 24 pucks for the Caps. Josh Linn broke Yeager's shutout bid with a late Mid Cities goal, and the hosts featured a combined 26 saves form Noah Kinsinger and Francisco Clark-Silva in the Stars' crease.
Willmar 7 @ Wausau 1 - Jacob May and Ian Zaleski each scored twice, Lucas Ehrlich stopped 37 of 38 shots and the Warhawks raced to a 7-1 road win over the Riverwolves. Hunter Hall, Campbell Jackson and Chase VanDeVere scored as well for Willmar, while Tanner Eskro posted the lone Wausau marker. Alexandr Gilev and Terran Mohr posted a shared 65 stops for the Riverwolves.
Alexandria 4 @ Breezy Point 1 - Alexandria used a three-goal first period and two total tallies by Dylan Mattson to skate past the North Stars 4-1 on Friday. Brett Meister and Brandon Connett also found twine for Alexandria in the opening stanza, while Dustin Sadler lit the lamp for Breezy Point. Ville Hyttinen took the win with 11 saves, while Jacob MacLennan put forth an impressive 36 saves for the North Stars.
L/A 8 @ Long Beach 3 - The Nordiques bagged five goals in the third period to break open a tight 3-2 game and romp to an 8-3 win over the Sharks to open the weekend's action. Crewz Berry and Mike Keller each scored twice for the victors, while Donovan Tehan, Kyle Secor, Sergei Anisimov and Connor Kennedy rounded out the L/A goals. Samuel Willis, Teddy Valenti and Cade Lambdin provided the Sharks' offense in front of 41 saves by Darren Nathan. Jason St. Pierre took the win for the Nordiques with 15 stops.
Great Falls 4 @ Gillette 1 - Cody Dearing scored twice to round out an unanswered run of four goals for the Americans, who eventually topped the Wild 4-1 on Friday night. Ben Rinckey and Levi Mese also found the scoresheet for Great Falls, while Zach VanCompernolle broke the Americans' shutout with a late Gillette goal. Drew Scites still took the win with 23 saves in the Great Falls crease, countering 38 stops by Gillette's Cody Grogan.
Yellowstone 1 @ Helena 8 - Darren Donovan led the way with a hat-trick and three helpers as the Bighorns coasted past the Quake 8-1. Elliot Plourde also potted a pair of goals, Hayden Seitz, Justin Sullivan and Porter Tirrill scored once apiece and Alexander Rogers finished with 18 saves in Helena's win. Luke Hartge put Yellowstone on the board in the second period, while Logan Cooksy stopped 45 of 53 pucks for the Quake.
Bozeman 3 @ Missoula 2 - Connor Fuchs was the hero in this contest, potting the game-winning strike with just one second remaining on the clock, putting the exclamation mark on Bozeman's 3-2 comeback victory over the Bruins. Brock Finn and Sterling Morin nabbed the other Icedogs' goals, while Ty Dittman and Misha Akatnov put Missoula on the scoresheet. Mikael Levokari took the win with 27 saves, outdueling Evan Williams' 21 stops in the Bruins' cage.