Saturday Scores: Sweep keeps Whalers in playoff hunt
January 6, 2019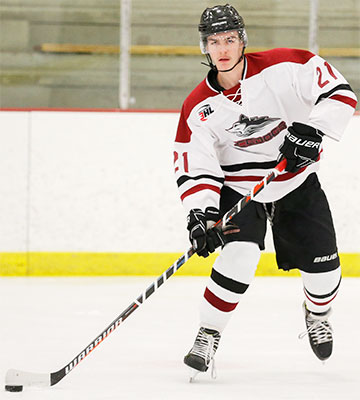 Wisconsin 5 @ Peoria 3 - A Justin Schwartzmiller hat-trick and 32 saves from Caleb Sauer did the trick for the Whalers, who snapped a 3-3 deadlock with two goals in the final frame to slip past Peoria 5-3. Sam Hanson and Stepan Ruta scored as well for Wisconsin, while Jared Wisely, Cody Layne and Stephen Zowin posted a goal apiece for the Mustangs. Luke Weberg turned aside 23 pucks in the Mustangs' loss.
Willmar 6 @ Wausau 2 - The Riverwolves scored twice in the second period to cut a 4-0 deficit in half, but the Warhawks proved too good on the night, striking twice in the final 20 to take a 6-2 win over Wausau on Saturday. Hunter Hall's pair of goals set the pace, leading AJ Martinelli, Andrew Pitleck, Elijah Slagter and Cameron Knowlton to light the lamp as well. Wausau received goals from Tanner Eskro and Janne Rukamp, as well as a stunning 74 saves from Terran Mohr in goal. Nelson Schiiler, though, took the win with 27 stops for the Warhawks.
Missoula 2 @ Bozeman 5 - Daniel Davis and Adam Franklin put the Icedogs on their backs with a hat-trick and two goals, respectively, to carry the team to a 5-2 decision over the Bruins on Saturday. Misha Akatnov posted both Missoula markers, beating Mikael Levokari of Bozeman twice on 37 shots. Missoula's Seth Daniel and Evan Williams finished with a shared 35 saves on the night.
Great Falls 6 @ Gillette 1 - Viktor Wennberg was a wall for the Americans, stopping 36 of 37 shots as Garrett Peters scored twice to help Great Falls to a 6-1 stroll past the Wild. The Americans also featured offense from Dylan Olson, Payton McSharry, Jens Juliussen and Hendrik Robel. Gillette received a goal from Gage Thompson and 42 stops from Aaron LaChance.
Yellowstone 1 @ Helena 4 - The Bighorns were at their finest on Saturday, scoring in each period to drop the Quake 4-1 on home ice. Hunter Pierce, Darren Donovan, Justin Sullivan and Valary Dietz tallied once apiece for Helena, while Jack Harris scored Yellowstone's lone goal. Carver Thompson and Alexander Rogers combined for 28 saves in the win, while Michael Allman faced down 36 for the Quake.
New England 3 @ Northeast 4 (OT) - A see-saw affair tilted the way of the Generals in overtime on Saturday, as Kolye Bankauskas broke the third tie of the game to hand Northeast a 4-3 win over New England. The Stars' Michael Lempiainen, Ryan Caisse and Christopher Barone and Northeast's Thad Marcola, Carson Asper and Stephen Gerbis alternated goals during regulation time. John Driscoll stopped an impressive 44 pucks in the win, while Matthew Marini faced down 39 shots in New England's goal.
Binghamton 9 @ Skylands 1 - Mike Padgeon, Liam Murphy and Eric Melso each bagged a pair of goals as the Senators coasted to a 9-1 win over the Kings on Saturday. Thomas Liebold, Nicolas Lusignan and Dinmukhamed Dzhangarashev scored as well for Binghamton, who received 29 saves from Thomas Sullivan. Tom Fornabia swatted away 55 of 64 shots for Skylands in a strong showing, behind Zach Burkhart's lone Kings tally.
Oswego 4 @ Niagara Falls 1 - Two goals from Dylan Gulick and 22 saves by Manny Legace led the way as the Stampede trampled the Powerhawks for a 4-1 win. Elijah Morris and Ryan Gunther rounded out Oswego's attack, while Miguel Mercado posted Niagara's only goal. Jonathan Sebastiano finished with 32 saves for the Powerhawks.
Louisiana 8 @ College Station 0 - Three different skaters potted two goals and Grady Reis pitched a shutout performance to lead the Drillers to an 8-0 romp past the Spirit on Saturday. Timmy Zittel, Mitch Dolese and Gunner Morgan each netted twice, with Jonathan Broadribb and Zach Smith scoring once apiece for Louisiana.
Evansville 1 @ Coulee Region 17 - The Chill offense came out hot in Saturday's matchup, potting 17 goals on 75 shots to hand the Thunderbolts a 17-1 loss. Keaton Caplis led with a hat-trick, just nosing past Joseph Wiczek, Aslan Akervik, Connor Losen and Christopher Drews, who each scored twice. Brady Lindauer, Marcus Tilmon, Flavien Fondadouze, Brock Zukowski, Blake Holmes and Brandon Ratzloff also lit the lamp for Coulee Region. Deric Richison scored Evansville's only goal, the only one of seven shots to beat Chill goalie Michael Janke. Jack Cooper and Noah Brandau combined for 58 saves in the Thunderbolts' crease.
L/A 6 @ Long Beach 2 - Hunter Raye put forth a titanic effort with 50 saves in the Nordiques' cage to backstop their 6-2 win over the Sharks on Saturday. Zack Mullen, Colby Audette, Matthew McDermitt, Hans Watson, Connor Kennedy and Valeri Rykov provided the offense for L/A, while Ryan Gridley and Cade Lambdin were the only Sharks to beat Raye. Long Beach netminder Ryan Cortez finished with 23 saves.
Milwaukee 0 @ St. Louis 1 - Jacob Wiethaupt's second-period tally stood as the deciding marker, helping lift the Central Division-leading Blues to a key 1-0 victory over the Power. Mikael Foucher posted a 28-save shutout in the St. Louis crease, outdueling Aaron Dickstein's 31 stops for Milwaukee.
Atlanta 1 @ Mid Cities 2 (OT) - Brandon Speights scored 1:29 into overtime to help the Jr. Stars break a 1-1 deadlock and top the Capitals 2-1 at home on Saturday. Ryan Muckensturm of Mid Cities and Jason Ladzinski of Atlanta traded tallies in the first period. Francisco Clark-Silva took a 27-save victory for the Stars; Atlanta's Patrick Egdorf finished with 30 stops in the loss.
North Iowa 6 @ New Ulm 1 - The Bulls used a three-goal outburst in the first 25 minutes as springboard to ultimately breeze past the Steel 6-1 on Saturday. Nick Bowlin and Peter Verstegen tallied twice for North Iowa, complementing individual goals by Matt Dahlseide and Brendan Studioso. Evan Babekuhl stopped 28 pucks on the night, conceding only to New Ulm's Michael Smits. Steel goalie Henry Baribeau stopped 38 shots in the loss.
Breezy Point 0 @ Alexandria 6 - A 21-save shutout from Kyle Hayden and goals from six different skaters helped the Blizzard blaze past the North Stars on Saturday. Val Popowski, Tucker Kruse, Tanner Frerichs, Carter Rieland, Dylan Giorgio and Kenneth Taraszewski put pucks past Breezy Point's Jacob MacLennan, who finished with 29 saves on the night.
Rochester 2 @ Granite City 1 - Vladislav Sorokin beat the clock in the middle frame to net the deciding tally and help the Grizzlies take down the top-ranked Lumberjacks 2-1. Peyton Hart put Rochester ahead in the first, only for Grant Troumbly to equalize for Granite City 17 minutes before Sorokin's strike. Liam Kelly earned the win with 29 saves. David Mulligan stopped 19 pucks for the Lumberjacks.