Sunday Wrap-Up: Oswego posts weekend sweep
January 7, 2019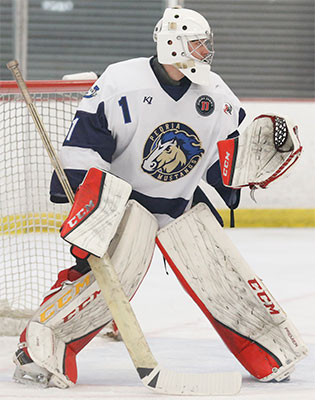 Oswego 9 @ Niagara Falls 5 - Oswego outscored its opponent 5-1 in the final 28 minutes to break open a 4-4 game and take a 9-5 win over the Powerhawks on Sunday. Niagara Falls' Adam Morgan led all skaters with four goals on the day, but a balanced effort from the Stampede took the win. Nick Snyder scored twice for the victors, while Oswego also received goals from Dimitri Christou, Tanner Coleman, Jared Berry, Tommy Kilway, Danny Mikol, Joey Gallo and Marcos Zarragoitia. Ben White turned aside 26 shots for Oswego, allowing goals only to Morgan and Jacob Robertson of Niagara Falls. Noah Spiesz and Josh Mitchell posted a combined 38 saves in the 'Hawks' cage.
Milwaukee 0 @ Peoria 3 - Jaden Gardner put forth a mammoth, 38-save performance between the Peoria pipes to earn a crucial 3-0 win over the Power. Jack Radley scored twice as Jaycob Bland rounded out the Mustangs' attack with a goal of his own. Aaron Dickstein stopped 36 shots for Milwaukee.
Long Beach 6 @ Cape Cod 4 - A slow start gave way to rampant offense as the Sharks rallied to erase a 2-0 deficit and top the Islanders 6-4 on Sunday. Noah Carlock starred with two Sharks goals, while Samuel Willis, Cade Lambdin, Jack Pensa and Avery Matthews each chipped in with a goal apiece. Mike Goroshko posted two of Cape Cod's markers, with Nick Ferrucci and Noah Tambolleo finding twine as well. Ryan Cortez took the win with 33 stops for Long Beach, countering Josh Chausse's 41 saves for Cape Cod.
Evansville 0 @ Coulee Region 18 - Every single Coulee Region player recorded at least one point as the Chill lit up the Thunderbolts for an 18-0 win at home. Several players netted multiple times, including hat-trick performances by Gadel Khismatullin and Matt Janke as well as two-goal outings from Brandon Ratzloff and Toon De Schepper. Thomas Magnavite, Christopher Drews, Connor Losen, Marcus Tilmon, Brady Lindauer, Brock Zukowski, Gijs De Schepper and Joseph Wiczek each found twine once. Gunnar Snyder took home a five-save shutout, while Evansville's Noah Brandau faced a barrage of 78 shots between the pipes, turning aside 60.
Northeast 2 @ New England 1 (OT) - The Generals saw their slim advantage erased in the third period, but a Tami Merilainen power-play strike in overtime gave Northeast the 2-1 win over the Stars. Thad Marcola posted their initial goal, while Tyler Gillen countered for New England early in the final frame. Jeb Barrett took the win with 36 saves, while Cedric Joubert turned aside 23 in the loss.
Atlanta 3 @ Mid Cities 2 (SO) - Ayrton Cornic and Andrei Rusakov each lit the lamp in a quick shootout to clinch a 3-2 victory for the Capitals' over the Stars. Rusakov also scored in regulation to get the Atlanta attack off the ground, and Riley Stern added the Caps' second in the middle frame. Matthew Taylor and Josh Linn tallied the Stars' strikes in front of 22 saves from Francisco Clark-Silva. Quinn Yeager earned the win for Atlanta, turning aside 29 of 31 pucks.