Louisiana forward Apud to represent Mexico at World Juniors
January 9, 2019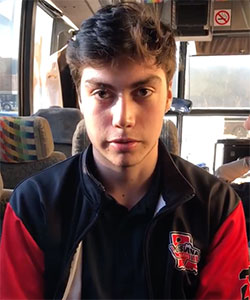 The Louisiana Drillers of the NA3HL are pleased to announce the rookie forward Alejandro Apud will represent Mexico at the IIHF U20 World Championship Division II, Group B tournament.
The event will take place in Zagreb, Croatia from January 15-21, 2019.
Apud, 17, was born in Mexico and is a Mexican citizen. Apud (5'11/188) moved to Scottsdale, Arizona when he was 12 and played last season with the Arizona Jr. Sun Devils U16 team and also has experience with the Arizona Bobcats organization.
He has 8 goals along with 11 assists for 19 points in 30 games played in the NA3HL this year with the Drillers and will be leaving the team for a week to represent his native country of Mexico.
"I think it will be a good challenge and there are some good teams we are playing against. I got some good experience playing for the U18 team last year, so I am excited to take the next step," said Apud.
Apud represented Mexico in last year's IIHF U18 Division III A World Championships where he had two points in five games.
The Drillers organization would like to wish Alejandro good luck in representing his country.