Chill roll to 7th straight win with shutout on Thursday
January 11, 2019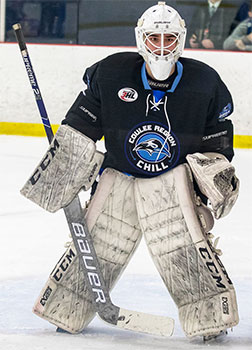 Wausau 0 @ Coulee Region 6 – The Coulee Region Chill continued to climb the Central Division standings as they won their 7th straight game in a 6-0 home shutout on Thursday night of the Wausau RiverWolves. The Chill, who have played an NA3HL low 25 games this season, have outscored their opponents 89-8.
After a scoreless 1st period, which saw RiverWolves goalie Alexandr Giley keep his team in the game with 19 saves, the Chill exploded for four goals in the 2nd period to make it a 4-0 game. Brady Lindauer scored his 31st and 32nd goals of the season and Thomas Magnavite and Aslan Akervik also scored. Magnavite would also pick up assists on both goals from Lindauer.
In the 3rd period, the Chill added two more goals as Judson McGrath scored his first goal of the season and Blake Holmes added a power play goal.
Chill goalie Gunnar Snyder made 15 saves in the shutout, which was his third shutout in as many starts as he has not allowed a goal since the calendar turned to 2019 in three starts. Giley was the star in goal for the RiverWolves, making 53 saves.