Friday Finals: Blizzard edge Bulls to tighten West race
January 12, 2019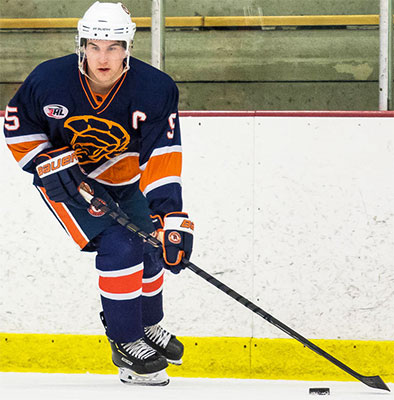 North Iowa 2 @ Alexandria 3 (OT) - After Joe Dokken erased a 2-1 Bulls advantage in the third period, Val Popowski potted the game winner less than a minute into overtime to send Blizzard fans home happy with a 3-2 win over North Iowa on Friday. Brandon Connett put Alexandria ahead early before two second-period strikes from Peter Verstegen and Cam Fagerlee gave the Bulls their lead. Ville Hyttinen was credited with the win after 34 saves, while Dysen Skinner suffered just his third loss of any kind this season despite 32 saves at the other end.
Skylands 3 @ Northeast 8 - Marc Faia's hat-trick highlighted an outstanding offensive foray for the Generals as they blitzed Skylands for an 8-3 victory. Carson Asper (2), Stephen Gerbis, Kolye Bankauskas and Tyler Rudek scored as well for Northeast, countered by Skylands scorers Dylan Saccone, Zach Burkhart and Steven Ford. Josh Sears saved 41 shots for the Kings as Devun Schneider picked up another win with 21 saves in the Northeast net.
Helena 3 @ Missoula 8 - Teammates and countrymen Misha Akatnov and Vadim Zubkov were in fine form on Friday, potting 3-4--7 and 4-3--7 apiece to lift the Bruins to a key 8-3 win over Helena. Vladimir Chinikaylo scored as well, while Nicholas Noel, Ian McIntosh and Hunter Pierce bagged the Helena goals. Alexander Rogersa nd Garrett Dryden posted a combined 34 saves in the loss, while Evan Williams took the win, stopping 30 pucks in the Missoula cage.
Butte 0 @ Great Falls 8 - Payton McSharry, Cody Dearing and Jack Olson each scored twice as the Americans raced to an 8-0 shutout of the Cobras on Friday. Drew Scites and Cam McIntosh recorded a shared 14-save shutout in the win behind individual goals from Ben Rinckey and Jens Juliussen. Karl Zodda took Butte's loss despite a stellar 64 saves.
Yellowstone 1 @ Bozeman 4 - Sterling Morin's pair of second-period goals made Bozeman's advantage 3-0 on Friday as the Icedogs romped to a 4-1 win over Yellowstone on home ice. In the third period, Duncan McGarrah scored for Bozeman to cancel out Jon Green's late middle frame tally for the Quake and squash any comeback hopes. Mikael Levokari earned a 32-save win, outdueling his counterpart from Yellowstone, Michael Allman, who saved 51 pucks for the Quake.
Binghamton 11 @ Niagara Falls 0 - Mike Padgeon and Greg Simmons paced a steller Senators attack as they romped past the Powerhawks 11-0 on Friday. Padgeon and Simmons bagged two goals each en route to five and six-point nights, respectively, with Dinmukhamed Dzhangarashev pitching in a pair as well. Seth McArdle, Markus Cook, Nicolas Lusignan, Nico Corsaro and Eric Melso each scored once to round out the offense in front of a shared 17-save shutout by Casey Boone and Thomas Sullivan. Niagara Falls received a stout performance by Noah Spiesz despite the loss, as the netminder turned aside 62 of 73 shots on the night.
New Ulm 2 @ Coulee Region 5 - The Chill jumped out to an early 2-0 lead with goals separated by just 59 seconds and never looked back as they topped the Steel 5-2 in Friday's inter-divisional matchup to stretch their winning streak to eight games. Thomas Magnavite tallied twice for Coulee Region, also aided by goals from Brady Lindauer, Matt Janke and Blake Holmes. Keegan Bauman and Carson Sandwick scored for New Ulm in front of 23 saves from James Royce. Devin Naidow was stellar between the Chill pipes with 44 saves in the contest.
Peoria 14 @ Evansville 0 - Austin Keil posted five goals, Brandon Hay nabbed a hat-trick and Jaden Gardner turned aside all 18 shots against to help the Mustangs breeze past the Thunderbolts 14-0 to stay three points clear of fourth place Coulee Region in the Central Division. Peoria also received goals from Jared Wisely (2), Bret Bauer, Jack Radley, Nick Ulrich and Ian McHenrey. Evansville netminders combined to stop 83 of a whopping 97 shots against.
Breezy Point 4 @ Rochester 5 - Down 2-0 entering the final frame, the Grizzlies outscored the North Stars 5-2 in the third period to snatch a 5-4 comeback win on home ice. Kory Potach, Lucas Newman, Logan Olson, Vladislav Sorokin and Josh Hoffman led the charge for Rochester, while Jacob Berkowitz, Casey Hormann, Lukas Brockman and Cooper Hoheisel helped Breezy Point put forth a strong showing against the tough Grizzlies. Liam Kelly earned the win on the back of a 21-save effort, outmatching Breezy Point's Dan Fielding, who stopped a strong 43 of his own.
Milwaukee 5 @ Wisconsin 2 - The Power rattled off four goals in the first 37 minutes to help snap a five-game losing streak with a 5-2 win over the Whalers. Benjamin and Caleb Beversdorf starred with two and one goal(s), respectively, leading Mason Evans and Logan Geisness to light the lamp as well for Milwaukee. Reigning Central Division Star of the Week Justin Schwartzmiller potted both Whalers goals, as Caleb Sauer suffered the defeat despite 30 saves in the Wisconsin crease. Aaron Dickstein turned aside 21 shots to return to his winning ways.
College Station 3 @ Mid Cities 4 - Three goals in the final 27 minutes nearly saw College Station muster up a remarkable comeback, but Matthew Taylor's third-period marker kept the scrappy Spirit at bay as the Stars toppled their division rivals 4-3 to move within four points of third-place Atlanta. Josh Linn, Stephen Guadalajara, Nick Solema and Dawson Plott each found twine for Mid Cities, while Jason Owings, Tracen Hindes and Jacob Norwood led the Spirit resurgence. Blake Forystek stood tall in the Spirit cage with 49 saves to keep the score close, while Noah Kinsinger turned aside 17 for the Mid Cities win.