Saturday Scores: Binghamton closing in on division title
January 13, 2019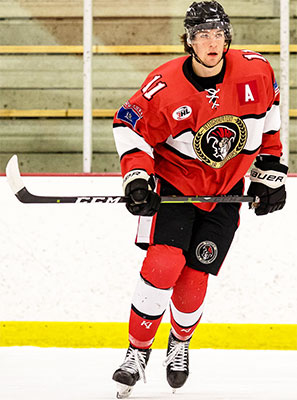 Binghamton 11 @ Niagara Falls 1 - The Senators continued their return to form with another comfortable win, this time 11-1 over the Powerhawks on the back of hat-tricks by Markus Cook and Mike Padgeon. Seth McArdle tallied a pair of goals in the Senators' blitz, as did Greg Simmons, Nicolas Lusignan and Eric Melso once apiece. Jake Green nabbed Niagara's goal. Casey Boone finished with 12 saves in Binghamton's win, outmatching a combined 34 stops from Powerhawks' goaltenders Noah Spiesz and Josh Mitchell.
College Station 0 @ Mid Cities 7 - A 14-save shutout for Fransisco Clark-Silva and two goals from Matthew Taylor highlighted a banner evening for the Jr. Stars, who easily slipped past the Spirit with a 7-0 advantage. Brandon Speights, Hunter Leonhard, Josh Linn, Ryan Muckensturm and Blake Campbell also lit the lamp, peppering Spirit netminders Blake Forystek and Luigi Giustra with 55 shots on the night. The two goalies finished with a combined 48 stops.
Granite City 5 @ St. Louis 2 - The Lumberjacks sped out to a 5-0 lead through 40 minutes and held off a late St. Louis comeback to top the Blues 5-2 and maintain their share of the West Division lead. Jordan Olson, Hunter Schwehr, Grant Troumbly, Sean Salz and Trevor Dummer fueled the Granite City goalscoring, while Ivan Galaguzov and Matthew Monreal salvaged a pair for St. Louis. David Mulligan stopped 27 of 29 for the Lumberjacks, while Mikael Foucher stonewalled a strong 41 of 46.
Texas 5 @ Louisiana 1 - Four unanswered Texas tallies in the final 35 minutes broke a 1-1 deadlock and saw the Brahmas through to a 5-1 romp past rival Louisiana on Saturday. Stuart Pearson led with two goals, followed by Seth Cushing, Tyler Blanchard and Parker Mara with individual strikes. Grant Griffin nabbed the Drillers' lone goal, as Griffin Varricchio turned aside 28 pucks in the Louisiana cage. Thomas Held was stellar in Texas' win, stopping 45 of 46 between the pipes.
Missoula 2 @ Helena 5 - The Frontier Division remains as tight as ever, thanks to the Bighorns keeping pace with Great Falls as they topped Missoula 5-2 at home on Saturday. Alexander Rogers starred with 25 saves while Darren Donovan scored twice and JJ Blondin, Hayden Seitz and Porter Tirrill added goals of their own to pace the Helena offense. Vadim Zubkov potted both Missoula markers in front of a 33-save performance by Seth Daniel between the pipes.
Yellowstone 0 @ Gillette 8 - Shane Phillips was dialed in early in this one, eventually stopping 24 of 24 to notch his first shutout of the season -- an 8-0 decision for his Wild over the Quake on Saturday. Coleman Varty and Gage Thompson took the reins with two goals apiece, as Garrett Ropka, Jacob Kaminski, Dillon Hale and Austin Newson each found the back of the net as well. Yellowstone's Michael Allman played well in net, but fell just short despite 49 saves on the night.
Great Falls 6 @ Butte 1 - The Frontier Division co-leaders made sure to do their part to keep pace in the division race with a 6-1 win in Butte on Saturday. Ben Rinckey bagged a hat-trick for the Americans, who were also aided by Nick Ramstad, Jens Juliussen and Nate Simpson to reach their streamlined win. Tyson Stovin potted the single Cobras goal early in the second period. Butte netminder Karl Zodda was hard at work on Saturday with 64 saves on 70 shots, while Viktor Wennberg backstopped the Americans' victory with 40 saves on 41 shots.
Oswego 1 @ Skylands 2 - A scoreless first 20 minutes gave way to a pair of Skylands goals in the middle frame that proved to be all they would need, as the Kings staved off a third-period scare from the Stampede to take a 2-1 win on Saturday. Jake Cicalese and Jake Lissy gave the Kings their lead, while Wade Moak made things interesting with an early third-period marker for Oswego. Kavan Johnson took the win with 33 saves, while Manny Legace suffered a tough luck loss with 29 stops.
Long Beach 4 @ L/A 12 - Sam Frechette found twine four times, Valeri Rykov and Joe Bisson each scored twice and the Nordiques responded from an early 3-1 deficit to storm back for a dominant 12-4 victory over the Sharks. L/A also received goals from Crewz Berry, Trent Sheldon, JP Chauvin and Joshua Malone in the rout, while Long Beach relied on two-goal efforts from Eric Immel and Samuel Willis in the contest. Sharks goalie Ryan Cortez stood tall with 43 saves, but fell to a shared 10 saves by Jason St. Pierre and Daniel Miller in the Nordiques crease.
New England 7 @ Maine 1 - The hat-tricks were flowing throughout the NA3HL on Saturday as Conner Barter led his Stars to a 7-1 victory over Maine with another triple on the night. Michael Lempiainen produced as well, logging two goals in the night ahead of individual tallies by Zachary Burnham and Derek Lovejoy. Maine's single strike came from Elijah Older. Timothy Pesek didn't have much to do in the game, only forced into 16 saves, but his Maine counterparts Daniel Sprague and Andrew Ghimpeteanu were active with a combined 37 saves.
Coulee Region 4 @ New Ulm 5 - Michael Savelkoul played hero for the Steel on Saturday, not only recording a hat-trick, but also nabbing the game-winning goal with just two minutes to play to seal a Steel win -- 5-4 -- over the Chill. Jarrett Cammarata and Jacob Halvorson scored as well, but Savelkoul's late winner following a couple of Coulee Region goals from Brady Lindauer and Logan Kons, which had tied the game at four, stole the show. Blake Holmes and Flavien Fondadouze also lit the lamp for Coulee Region, who received 26 saves from Devin Naidow. Henry Baribeau earned the win, turning aside 36 of 40 for the Steel.
North Iowa 6 @ Alexandria 2 - The opening 20 minutes belonged to the Blizzard as Ike Taraszewski put the hosts ahead, but a string of five consecutive goals saw the Bulls take home a comfortable 6-2 win. Carter Wagner twice found twine, as Cam Fagerlee, Matt Rozman, Hank Nagel and Harrison Stewart each scored as well for North Iowa. Wesley Johnson potted Alexandria's other goal, while Ville Hyttinen turned aside 28 of 34 for the Blizzard. Dysen Skinner took the win with a 30-save showing in the Bulls' cage.
Willmar 1 @ Breezy Point 2 - Nate Chamberlain's early second-period strike stood strong as the game-winner as the North Stars slipped past the Warhawks 2-1 on home ice. Jacob Berkowitz also scored for Breezy Point, while Hunter Hall put Willmar on the board late in the middle 20. Lucas Ehrlich suffered the loss despite a solid 42 saves, while Jacob MacLennan posted a 14-save effort in the win.