Grizzlies, Nordiques pull out thrilling wins on Wednesday
January 17, 2019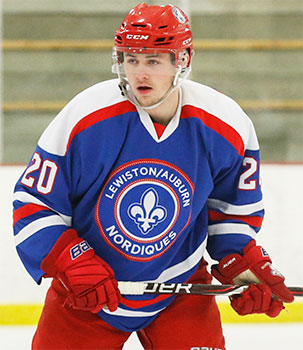 L/A Nordiques 5 @ Maine 4 (OT)
– The battle of Maine featured the best game of the season series on Wednesday night as the Maine Wild pushed the 1st place L/A Nordiques to the limit, but in the end, the Nordiques walked away with a 5-4 overtime win. The Nordiques jumped out to a 2-0 lead with goals from Valeri Rykov and Colby Audette. Maine would respond with four of the next five goals as a hat-trick from Regan Wintle and another goal from Emerson Southern gave the Wild a 4-3 lead. Sergei Anisimov scored for the Nordiques in the 2nd period. Later in the 3rd period, Cole Ouellette tied the game with a power play goal. In the overtime, Joe Bisson tied for the team lead with his 33rd goal of the season to give the Nordiques the win and extra point. Nordiques goalie Daniel Miller made 14 saves in the win, while Wild goalie Tom Spero was excellent in the OT loss, making 50 saves.
Boxscore
Willmar 2 @ Rochester 3
– The Rochester Grizzlies scored two goals in the final :23 seconds of regulation to come from behind to defeat the Willmar WarHawks on Wednesday night, 3-2. Rochester scored the opening goal of the game, which came early in the 1st period from Dylan Svoboda. Willmar took a 2-1 lead with two 2nd period goals, both from Hunter Hall. In the 3rd period, the Grizzlies stormed back to take the lead and win with two late power play goals from Matthew DeRosa and Porter Haney. Nick Bucklin picked up the win in goal making 31 saves, while Nelson Schiiler took the loss with 32 saves.
Boxscore