Chill, Stars pick up wins on Sunday
January 20, 2019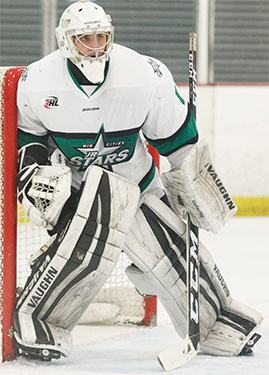 Coulee Region 16 @ Evansville 0
– The Chill completed a three-game weekend sweep in Evansville as they cruised to a 16-0 shutout. The win moved the Chill into a 3rd place tie in the Central Division. Every Chill player recorded at least one point and the team was led by Joseph Wiczek had a hat-trick and an assist and Aslan Akervik had two goals and two assists. Also scoring for the Chill in the game was Brandon Ratzloff, Gijs De Schepper, Donny Schultz, Matt Janke, Brock Zukowski, Flavien Fondadouze, Brady Lindauer, Gadel Khismatullin, Connor Losen, Christopher Drews, and Thomas Magnavite. Michael Janke had to made just seven saves in the shutout, which was his first of the season. Jr. Thunderbolts goalie Stephen Friedland made made 44 saves in the loss and Noah Brandau made 6 saves in the loss.
Boxscore
Mid Cities 5 @ Louisiana 1
– Stars goalie Noah Kinsinger made 35 saves to led the Jr. Stars to a 5-1 road win in Louisiana. The Stars jumped out to a 4-0 lead and never looked back with goals from Stephen Guadalajara, Jonah Carlson, Josh Linn, and Brady Nelson. The Drillers scored their lone goal of the game early in the 3rd period thanks to Mitch Dolese's 16th of the season, but a late goal from Linn, his second goal of the game, secured the 5-1 win. Griffin Varricchio made 12 saves in the loss and Samuli Aarinen also made 12 saves in the loss.
Boxscore