Blizzard, Nordiques win on Wednesday night
January 24, 2019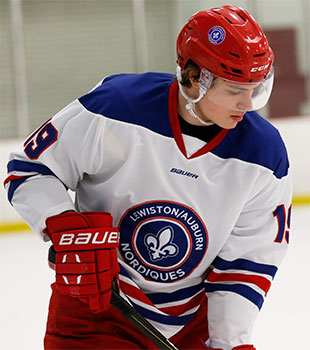 Granite City 2 @ Alexandria 3 (OT)
- The Alexandria Blizzard stole another game from a top-ranked opponent with the help of another late third-period goal. The Blizzard defeated the Granite City Lumberjacks 3-2 in overtime on Wednesday night with Ike Taraszewski's second game-winning goal in as many contests. Granite City got things going early with a goal in the first two minutes of the first period. The second goal of the game wouldn't come until midway through the second period when Granite City made it 2-0 after an unassisted goal from Hunter Schwehr. Brett Meister got the Blizzard on the board with a goal late in the second period. Dylan Giorgio decided that the game wasn't over yet when he scored the game-tying goal with 1:16 left on the clock. For the second time in three weeks, the Blizzard have found some magic toward the end of regulation. In overtime, Taraszewski threw a puck towards the net and it rolled by the goaltender. The puck slowly crossed the goal line completely before the outstretched hand of Lumberjack goalie David Mulligan could pull the puck back. Blizzard goalie Kyle Hayden made 24 saves in the win, while Mulligan made 33 saves in the loss.
Boxscore
Maine 4 @ L/A Nordiques 11
– The Nordiques scored early and often, scoring the game's first seven goals, including five goals in the 1st period as they cruised to an 11-4 win over the Wild on Wednesday night. Colby Audette, Sergei Anisimov, Joe Bisson, and Valeri Rykov each scored twice in the win. Donovan Tehan, Andrew McCormick, and Crewz Berry also scored for the Nordiues. The Wild tried to make a game of things with three goals in the 2nd period, which included two goals from Regan White and another from Chandler Bilodeau, but that's as close as they would get. Bilodeau would end up potting his second goal of the game late in the 3rd period to make it an 11-4 final score. Hunter Raye made 23 saves in the win, while Tom Spero took the loss with 25 saves.
Boxscore