NA3HL grad Nedeljkovic starts and wins NHL debut
January 24, 2019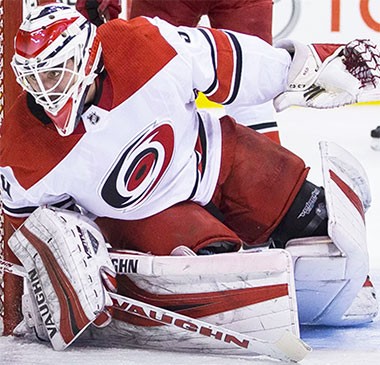 First career start in the National Hockey League, first career win in the National Hockey League.
Not a bad night for NA3HL alum and Carolina Hurricanes goalie Alex Nedeljkovic, and his parents were in the building to see it. The 23-year-old netminder said he spotted them in the crowd during warm-ups and would sneak a peek every now and then during the game. They were easy to spot, he said - after all, his mom was wearing a red Hurricanes sweater.
"It's special. It's really incredible. To have my mom and dad in the crowd, I wouldn't want anybody else there," Nedeljkovic said. "They've done so much for me. Growing up, driving me to rinks, driving me to practices and games everywhere. I couldn't have done anything I've done without them."
Nedeljkovic said he felt comfortable in the crease "right off the bat," even though he only had to face a handful of shots in the first period.
"One of my goalie coaches growing up told me to play every game like it's the biggest game of your life so when you play the biggest game of your life, it's just another game. That's kind of how I looked at today," he said. "It was just another game, just another Wednesday night game. We came out on top."
Nedeljkovic finished the night with 24 saves on 26 shots and, most importantly, the W.
Nedeljkovic, was the Hurricanes' second-round (37th overall) pick in the 2014 NHL Draft.
The Parma, Ohio, native spent the majority of November and December in the NA3HL with the Metro Jets during the 2012-13 season. He made an immediate impact as he was named as the NA3HL Goaltender of the Month in November. He was in goal for all four of his team's wins in November as he posted a perfect 4-0 record along with a 94.2% save percentage and a 2.00 goals against average. During the month of November, he stopped 129 of a possible 137 shots on goal.
He went on to play five more games in the NA3HL during December and January. In total, he posted a 5-3-0 record with a 2.49 goals against average and a 93.3% save percentage.