Friday Finals: Brahmas pick up 13th straight win
January 26, 2019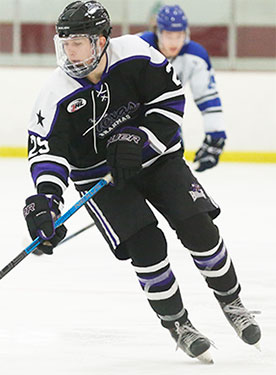 Atlanta 3 @ Texas 5 - Jack Cooper's pair of second-period strikes sparked a Brahmas 5-3 victory over Atlanta on Friday. Parker Mara, Benjamin Lindberg and Seth Cushing posted goals in the final frame for Texas, trading goals with Atlanta's Andrei Rusakov, who scored twice to complement Christopher Linde's first-period goal for the Capitals. Bryce Runyan picked up the win with 20 stops, as Quinn Yeager stopped 23 for Atlanta.
North Iowa 2 @ Granite City 4 - Four consecutive goals through the first 30 minutes saw the Lumberjacks through to a key 4-2 win over division rival North Iowa on Friday. Jordan Olson, Brad Amundson, Grant Troumbly and Bailey Sommers put Granite City ahead early before Cam Fagerlee and Jack Giddings helped the Bulls mount a comeback bid later in the game. David Mulligan's 22 stops earned the win, outpacing Dysen Skinner's 23 saves for North Iowa.
St. Louis 4 @ Milwaukee 2 - Ethan Dabbs scored twice for the Power, but the Blues outmatched Milwaukee with four different scorers in a 4-2 win to strengthen their Central Division lead. Matthew Monreal, Blake Dangos, Will Baginski and Ivan Galaguzov tallied for St. Louis in front of a 29-save effort by Mikael Foucher. Aaron Dickstein turned in a strong 35 saves for Milwaukee in the loss.
Niagara Falls 2 @ Oswego 9 - Joey Gallo and Ryan Gunther each tallied twice to power the Stampede to a 9-2 win over the Powerhawks. Dimitri Christou, Dylan Gulick, Wade Moak, Chance Ubel and Tommy Kilway also lit the lamp for Oswego, while Adam Morgan and Devin Johnson nabbed goals for Niagara Falls. Ben White earned the 26-save victory, while Josh Mitchell had an active night in the Powerhawks' cage with 58 stops.
Rochester 4 @ Willmar 0 - Liam Kelly starred with a 39-save shutout to backstop the Grizzlies to a 4-0 win blanking of the Warhawks. Nic Leisen paced the attack with two goals, flanked by tallies from Vladislav Sorokin and Joey Fodstad. Lucas Ehrlich turned aside 55 pucks in the Willmar cage.
Coulee Region 13 @ Wausau 0 - Three players turned in multi-goal showings as the Chill easily topped the Riverwolves by a 13-0 margin on the road on Friday. Brady Lindauer bagged his sixth hat-trick of the season -- and fourth in his last five games -- as Brock Zukowski and Christopher Drews nabbed a pair apiece. Matt Janke, Flavien Fondadouze, Aslan Akervik, Gadel Khismatullin, Boone Mathison and Thomas Magnavite scored as well. Gunnar Snyder earned the win with a 20-save shutout, while Wausau's Alexandr Gilev posted an impressive 68 saves.
New Ulm 5 @ Breezy Point 6 (SO) - Carson Simon put forth a stunning show with a hat-trick in regulation time -- including a late tying tally -- and snatching a 6-5 shootout win for the North Stars as the only scorer in the breakaway competition. Lukas Brockman and Gunner Bourassa struck as well for Breezy, outdueling a two-goal effort from New Ulm's Brian Oare as well as individual goals by Keegan Bauman, Corey Stormer and Michael Savelkoul. Dan Fielding and Jacob MacLennan combined for 31 saves in the win, while James Royce turned aside 36 in the Steel cage.
Binghamton 2 @ Northeast 1 - Mike Padgeon scored just past midway through the third period to snap a 1-1 deadlock and lift the Jr. Senators to a 2-1 victory over the Generals on the road. Dinmukhamed Dzhangarashev of Binghamton and Kolye Bankauskas of Northeast traded goals in the middle 20 before Padgeon's late winner. Jeff Zero stonewalled 41 pucks for the Sens, while John Driscoll posted 31 saves in the Generals' crease.
Butte 3 @ Gillette 4 - Coleman Varty's second hat-trick of the season helped the Wild erase a 3-0 deficit with just under half of regulation time remaining and ultimately take a 4-3 win over Butte before the final buzzer sounded on Friday. Gage Thompson also scored for Gillette to help round out its impressive comeback after Bryce Gould, Nolan Samples and Daniel Bazarin lifted the Cobras to their early advantage. Aaron LaChance and Shane Phillips put up a shared 33 saves for the win, while Butte's Karl Zodda was excellent despite the defeat with 54 saves.
Bozeman 0 @ Helena 3 - Garrett Dryden stole the show in the Bighorns cage, turning aside all 41 shots against as his side downed the Icedogs 3-0 in a key division matchup. Elliot Plourde, Porter Tirrill and Nicholas Pedersen provided the offense in the contest, potting the only goals on 32 shots past Bozeman's Cam McIntosh.
Missoula 9 @ Yellowstone 4 - A thrilling, high-octane affair between Missoula and Yellowstone on Friday saw Misha Akatnov net five goals and two assists as the teams combined for 13 tallies in a 9-4 Bruins win. Austin Leadbetter, Vadim Zubkov, Trevor Prince and Wyatt Ploot also scored for Missoula, while Dylan Rumpke scored twice and Nick Castro and Luke Hartge added individual goals for the Quake. Josh Sample picked up the 20-save win, while Logan Cooksy stopped 26 for Yellowstone.