Saturday Scores: Lumberjacks net Willner 500th win
January 27, 2019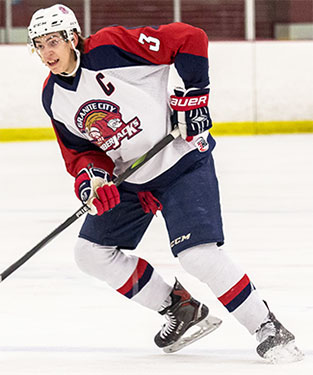 Breezy Point 2 @ Granite City 5 - The Lumberjacks opened up a 4-0 lead and never looked back as they ran past the North Stars 5-2 in Saturday's tilt, earning head coach Brad Willner his 500th USA Junior Hockey win. Granite City goals came from Grant Troumbly, Zack DeBoom, Bailey Sommers, Jordan Olson and Kearby Larson, while Lukas Brockman and Gunner Bourassa put Breezy Point on the board. Matt Fitzgerald's 29 saves earned the win, while Breezy Point featured a 34-save effort from Jacob MacLennan.
Butte 1 @ Gillette 10 - Gage Thompson and Coleman Varty each posted hat-tricks en route to 6+ point nights as they led the Wild to a 10-1 blitz over the Cobras on Saturday. Ethan Becker scored twice as Tyler Kaminski and Zach VanCompernolle added goals of their own in Gillette's win, as Shane Phillips and Cody Grogan earned the win in the Wild cage. Wyatt Haakenson scored Butte's only goal in front of a shared 51 saves by netminders Karl Zodda and Cameron Cornish.
Great Falls 2 @ Helena 1 - Ricards Groskops' tying goal had Helena thinking overtime, but Cody Dearing crushed their hopes with a late winning effort to power the Americans to a 2-1 win over the Bighorns on the road. Nate Simpson scored Great Falls' first goal as Drew Scites blocked away 39 shots in the win. Alexander Rogers faced down 23 pucks for the Bighorns.
Missoula 7 @ Yellowstone 5 - A wild affair that saw seven goals in the second period alone ultimately tilted in favor of the Bruins on Saturday, as Vadim Zubkov's hat-trick led them to a 7-5 win. Kyler Fullerton also starred with two goals, while Austin Leadbetter and John Bannon each potted one goal apiece. Dylan Rumpke led the Yellowstone attack with two goals, as Jack Harris, Tyler Cramer and Luke Hartge each lit the lamp once. Evan Williams put forth a gargantuan effort with 53 saves for the Missoula win, while Michael Allman stopped 29 pucks for the Quake.
Binghamton 9 @ Northeast 2 - A 7-1 scoring run in the final 34 minutes of action saw the Senators roll over the Generals 9-2 on Saturday. Mike Padgeon (3g,2a) and Eric Melso (5a) led the way for Binghamton with five points apiece, helped by two goals from Thomas Liebold and individual markers by Dinmukhamed Dzhangarashev, Nico Corsaro, Zach Bell and Greg Simmons. Jeff Zero snagged the 41-save win, allowing goals only to Northeast's Tyler Rudek and Carson Asper. Jeb Barrett finished with 43 stops in the Generals' crease.
New England 2 @ Maine 1 (OT) - Michael Lempiainen completed the Stars' comeback at 3:38 of overtime to help his team top the Wild 2-1 on the road. William Godbout put Maine ahead in the middle 20, before Henry Beguelin scored to force OT for New England and set up Lempiainen's winner. Matthew Marini took the win with 20 stops, while Andrew Ghimpeteanu faced a busy night at the Maine end with 51 saves.
Niagara Falls 1 @ Oswego 8 - The Stampede rode six unanswered strikes in the final 23 minutes to break open a 2-1 contest and ultimately romp to an 8-1 victory over the Powerhawks. Dimitri Christou and Wade Moak bagged two goals apiece as Tommy Kilway, Joey Gallo, Dylan Candleana and Nick Snyder each found twine as well for Oswego. Adam Morgan scored the lone Niagara Falls goal in front of a stellar 63 saves by Noah Spiesz. Despite Spiesz's heroics, though, Manny Legace took the win with 20 saves on 21 shots for Oswego.
Milwaukee 2 @ Peoria 6 - Jack Radley netted his fourth hat-trick of the season to guide the Mustangs to a 6-2 upset victory over the Power on Saturday. Also scoring for Peoria were Austin Keil, Tristan Trudel and Brandon Hay. Jaden Gardner earned the win between the pipes with 33 stops. Aaron Dickstein turned aside an impressive 29 shots of his own for Milwaukee, as Ryan Payne and Chuck Bay scored for the Power.
St. Louis 3 @ Wisconsin 4 - Knotted at one goal apiece entering the final frame, Wisconsin rattled off three goals -- including Jeff Bishop's winning strike with just 1:25 remaining -- to St. Louis' two to take a 4-3 upset over the first-place Blues. James Lowry, Tanner Mros and Stepan Ruta also lit the lamp for the Whalers, matching St. Louis goals from Matthew Monreal, Sean Hofstetter and Zach Wilson. Caleb Sauer was enormous in Wisconsin's win with 56 saves in net, outdueling Jack Regan's 38 stops for St. Louis.
Atlanta 3 @ Texas 1 - Andrei Rusakov bagged his 19th and 20th goals of the season to pace an impressive 3-1 Atlanta win over Texas on the road. Cole Thomas Johnson added to the Capitals' goal total, while Seth Cushing hoped to spark a Brahmas comeback with a third-period goal. Patrick Egdorf earned a 33-save victory, while Bryce Runyan suffered just his second regulation (third total) loss in 14 starts between the Brahmas' pipes this season, stopping 32 pucks along the way.
Rochester 5 @ New Ulm 6 - Jack Parks tallied twice -- including the game-winning goal in the third period -- to help his Steel knock off the Grizzlies 6-5 in a back-and-forth tilt that saw New Ulm cough up a 3-0 lead, just to rescue a win at the death. Jacob Halvorson, Keegan Bauman, Michael Savelkoul and Carson Sandwick helped provide the New Ulm offense, outdueling two Rochester goals apiece by Joey Fodstad and Peyton Hart, as well as a single goal from Matthew DeRosa. Henry Baribeau's win came with 33 saves in the Steel cage, while Nick Bucklin suffered the 21-save loss.
North Iowa 1 @ Alexandria 4 - Jordan Roo put the Bulls ahead early, but the Blizzard produced goals from four different skaters in the latter 40 to topple North Iowa 4-1 at home. Cole Lehmann, Sam Prisbe, Tucker Kruse and Ike Taraszewski each lit the lamp for Alexandria, helping Kyle Hayden earn the win in goal with 36 saves. Evan Babekuhl turned aside 27 of 31 for the Bulls.