Mustangs sweep series to contend in Central
January 27, 2019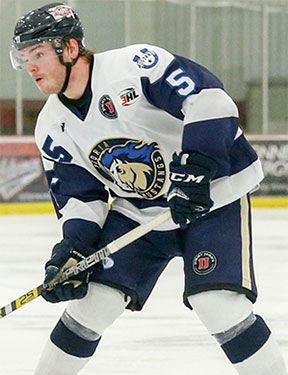 Milwaukee 1 @ Peoria 4 - Jaden Gardner starred with 36 saves as Peoria topped Milwaukee 4-1 at home on Sunday. Zachary Eddington, Tristan Trudel, Nich Ulrich and Jaycob Bland provided the Mustangs attack, outmatching Chuck Bay's lone goal for the Power. Aaron Dickstein suffered the loss despite a 29-save effort.
New England 9 @ Cape Cod 1 - Six unanswered markers in the final 40 minutes paced a high-octane Stars team to a 9-1 win over the Islanders. Trevor Arsenault and Connor Barter netted twice apiece, and were joined by Ryan Caisse, Colin Hughes, Michael Lempiainen, James Wilson and Cody Lappas with goals on the day. Tanner Little nabbed Cape Cod's lone goal. In net, New England's Timothy Pesek took the win with 30 stops, while Maxim Clouser turned aside 40 pucks for the Islanders.
Niagara Falls 4 @ Oswego 5 (OT) - Rich Hart and Nick Snyder each scored in the third period to erase a 4-2 deficit and set up Elijah Morris' overtime winner as the Stampede slipped past the Powerhawks 5-4 on Sunday. Adam Louise and Dylan Gulick also scored for Oswego, while Matthew Schemelia bagged a pair for Niagara Falls alongside Noah Sigal and Devin Johnson. Cherokee Fox and Ben White combined for the 20-save Stampede win, while Jonathan Sebastiano's herculean 54-save effort fell just short in the Powerhawks' cage.
Atlanta 2 @ Texas 6 - Deadlocked in a 2-2 affair after 20, the Brahmas rattled off four unanswered goals in the final two periods to take a 6-2 victory over the Capitals. Jack Cooper stole the show with a hat-trick, while Benjamin Lindberg, Michael Redmon and Andrue Trelstad added goals of their own for Texas. Brett Dougherty posted Atlanta's goal in front of 34 stops by Patrick Egdorf. Thomas Held took the win in the Brahmas' cage with 19 saves.
Skylands 2 @ Northeast 7 - The Generals jumped out to a 4-0 lead after the opening frame and kept their foot on the gas the rest of the way to notch a 7-2 win over the Kings. Jeffrey Sidoit, Dylan Figueroa, Thad Marcola, Mitchell Shulman, Kolye Bankauskas, Stephen Gerbis and Carson Asper lit the lamp for Northeast as John Driscoll stopped 25 pucks for the win. Zach Burkhart posted both Skylands tallies in front of a stout 60 saves from Kavan Johnson.