Granite City's Willner reaches 500-win milestone
January 28, 2019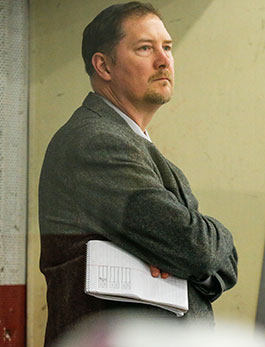 Brad WIllner, the head coach of the NA3HL's Granite City Lumberjacks, has become part of a very exclusive club. With Granite City's 5-2 win over the Breezy Point North Stars this past Saturday night, Willner became a part of the 500-win club as he posted his 500th USA Hockey junior hockey win.
During his tenure with the Lumberjacks, Willner has helped promote 38 players onto NCAA hockey, has won four league championships, four divisional championships, and was named NA3HL General Manager of the Year and Organization of the year in 2012. Those 500 junior hockey wins include wins in the NA3HL, NAHL, and MNJHL.
"Brad has been a great coach, leader and mentor at every level he has coached. We are lucky to have him in the NA3HL. He has a long track record of developing hockey players as well as young men," said NAHL and NA3HL Commissioner Mark Frankenfeld. "Brad has built winning programs at every stop along the way and we are proud of what he has accomplished in both the NA3HL and NAHL. His commitment to his players and building a first-class organization has resulted in unprecedented success on the ice and in the community. We congratulate him on this great milestone."
Willner is currently in his 10th season as head coach of the Granite City Lumberjacks. He took over the Lumberjacks in 2009. Prior to joining the Lumberjacks, Willner was the Head Coach and General Manager of the Alexandria Blizzard of the North American Hockey League (NAHL) for four seasons (2005-09). While there, he led the Blizzard to four straight playoff appearances and captured the Central Division Playoff Championship and earned a spot at the Robertson Cup Championship during the 2007-08 season.
Before coaching in the NAHL with Alexandria, Willner spent five seasons with St. Cloud State University (2000-05), where he served as an assistant coach in charge of academics, NCAA team compliance, team travel, video breakdown, while helping in recruiting and on and off ice instruction.
Last year, the Lumberjacks won the West Division with an overall record of 33-14-0 and were in the final four of the Fraser Cup.
Ever since the Lumberjacks made the jump to NA3HL, they have made it to the West Division Finals. They will look to make it an 8th straight year they move through the 2018-19 season.