NA3HL announces 2019 Top Prospects rosters and schedule
January 29, 2019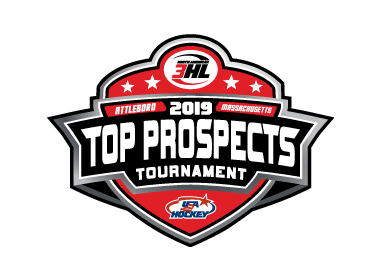 The North American 3 Hockey League (NA3HL) has announced the rosters and schedule for the 2019 NA3HL Top Prospects Tournament, which will be held from February 18-19, 2019, at the New England Sports Village in Attleboro, Massachusetts.
The NA3HL Top Prospects Tournament is played in conjunction with the NAHL Top Prospects Tournament. The event is one of the most highly-scouted events of its kind, with hundreds of junior, NCAA and NHL again expected in attendance this season.
The NA3HL standings were frozen on Sunday, January 20th. Teams were then seeded within their division based on win percentage. The number of players each NA3HL team is sending to the event was based on each team's winning percentage within their group.
120 total players from the NA3HL will be spread amongst six divisional teams, who will play in three games each during the event. Games will consist of three (3) 17-Minute Periods with a single ice cut in the middle of the 2nd period. Each team will consist of a 20-man roster (12 forwards, 6 defensemen and 2 goalies). Any player who was considered for the event must have been first nominated by their respective head coaches.
NA3HL Top Prospects Rosters
Coaches
Central: Chris Flaugher, St. Louis Jr. Blues (Head Coach) – Jon Vaillancourt, Coulee Region Chill (Assistant Coach)
Coastal: Cam Robichaud, L/A Nordiques (Head Coach) – Darryl Locke, Northeast Generals (Assistant Coach)
Frontier: Bob Richards, Helena Bighorns (Head Coach) – Greg Sears, Great Falls Americans (Assistant Coach)
Northeast: Anthony Langevin, Binghamton Jr. Senators (Head Coach) – Casey Mignone, Rochester Grizzlies (Assistant Coach)
South: Travis Sanders, Texas Brahmas (Head Coach) – Shawn McNeil, Louisiana Drillers (Assistant Coach)
West: Brad Willner, Granite City Lumberjacks (Head Coach) – Todd Sanden, North Iowa Bulls (Assistant Coach)
2019 NA3HL Top Prospects schedule (all times eastern):
Monday, February 18th
9:00am: Central vs. Coastal
10:00am: Northeast vs. Frontier
11:00am: West vs. South
3:45pm: Coastal vs. Frontier
5:45pm: Central vs. West
7:45pm: South vs. Northeast
Tuesday, February 19th
8:00am: Central vs. Frontier
10:00am: West vs. Northeast
12:00pm: South vs. Coastal