Nordiques shutout Wild on Wednesday
January 31, 2019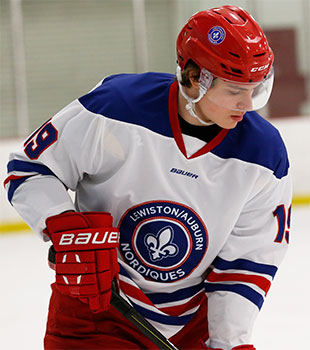 L/A Nordiques 10 @ Maine Wild 0 - The L/A Nordiques defeated the Maine Wild in the teams' third straight meeting, this time a 10-0 victory at Biddeford Ice Arena on Wednesday. Sergei Anisimov paced the Nordiques with two goals and three assists, while Josh Malone and Valeri Rykov each had two goals and two assists.
Malone opened the scoring at the 2:44 mark, and then Donovan Tehan scored 4:08 into the first period. Nearly two minutes later, Colby Audette potted his 36th goal of the season, while Rykov found the back of the net around the 10-minute mark of the first period.
The Nordiques nearly went the entire second period without a goal until Sam Frechette found the back of the net with 1:23 remaining in the period for his 21st goal of the season.
L/A pulled away with a third-period outburst that featured five goals. Anisimov scored twice in a 17-second span with a goal at the 6:08 mark and 6:25 mark. Malone stretched the lead to 8-0 nearly two minutes later. Rykov scored at the 13:19 mark for his 12th goal in seven games. He's averaging nearly four points per game (he also has 15 assists for 27 points. Josh Sanchez returned to the lineup after missing six weeks of action and capped the scoring off with 3:49 remaining in the game.
Nordiques goalie Dan Miller only needed 15 saves for the shutout, while Tom Spero made 55 saves in the loss.