Friday Finals: Binghamton are kings of Northeast again
February 2, 2019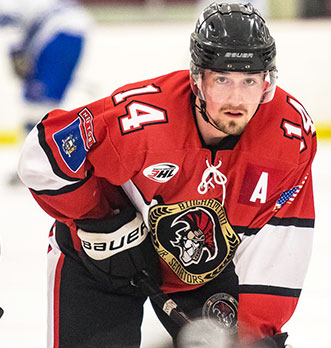 Binghamton 5 @ Oswego 0 - Thomas Sullivan stopped 29 pucks and Greg Simmons scored twice to highlight the Senators' 5-0 win over the Stampede on Friday. With the win, the Junior Senators clinched the Northeast Division Regular Season title. Eric Melso, Rory Gresham and Will Darling lit the lamp as well, as Binghamton peppered Oswego netminder Ben White with 64 shots. White finished with 59 saves on the night.
Milwaukee 1 @ Coulee Region 7 - The Chill potted five unanswered tallies in the final 32 minutes to widen their 2-1 advantage and snag a 7-1 victory over the Power at home. Thomas Magnavite starred with his fifth hat-trick of the season, as Brady Lindauer posted a four-point night in his own strong showing. In addition, Connor Losen scored twice, Flavien Fondadouze netted once and Devin Naidow stopped 29 shots in Coulee Region's win. Santana Pinkert bagged Milwaukee's only goal in front of a shared 37 saves from Aaron Dickstein and Matt Bilsborough.
Wausau 1 @ Peoria 11 - Austin Keil's five-goal feature paved a path to victory for the Mustangs as they toppled the Riverwolves 11-1 on Friday night. Cody Layne also logged a multi-goal outing with two, while Atticus Helfer, Jack Radley, Tristan Trudel and Brandon Hay each found twine once for Peoria. Jaden Gardner stopped 12 pucks for Peoria, conceding only to Wausau's Deniss Berdniks. Alexandr Gilev concluded his night with 25 saves in the Wausau cage.
Texas 3 @ Mid Cities 1 - A tight-checking affair tilted towards Texas late as the Brahmas held off the Stars' comeback bid to win 3-1 on the road. Stuart Pearson potted the game-winning goal in the second period, sandwiched between goals from Seth Cushing and Michael Thomas Jr. in the first and third frames. Nick Solema recorded Mid Cities' marker shortly after Pearson's eventual winner, but the lone goal was all Texas netminder Thomas Held would allow, as he won with 31 saves between the pipes. Francisco Clark-Silva stonewalled 37 pucks for the Stars.
New Ulm 5 @ Willmar 2 - A three-goal first period gave the Steel a steady boost as they eventually coasted to a 5-2 win over the Warhawks. Michael Savelkoul spearheaded the attack with a pair of goals, leading Jack Parks, Jordan Cooper and Jake Ford to find twine as well. Brandon Holt and Marquez Ginger put Willmar on the board in front of a 36-save effort by Nelson Schiiler. Despite Schiiler's work, though, Henry Baribeau took the win for New Ulm with 33 saves.
Granite City 3 @ North Iowa 2 (OT) - Blake Spetz played hero for the Lumberjacks, picking up a loose puck in the neutral zone and wiring it home off the rush in overtime to steal a key 3-2 road win over the Bulls on Friday. Granite City never led during regulation time, despite goals by Bailey Sommers and Trevor Dummer, as North Iowa's Carter Wagner and Jimmy McDermott helped keep the Bulls on the front foot with a goal apiece throughout the first 60 minutes. David Mulligan's 32 saves earned the win, while Dysen Skinner took the tough loss with 29 stops of his own.
Long Beach 0 @ Northeast 3 - Two goals in the opening frame and a 24-save shutout by Jeb Barrett helped the Generals knock off the Sharks 3-0. Northeast's Mitchell Shulman, Joshua Dimond and Preston Phelps put the puck past Darren Nathan of Long Beach once apiece in the Generals' win. Nathan finished with a stout 57 stops in the Sharks' cage.
Gillette 1 @ Helena 2 - Entering the final 20 down by a goal, the Bighorns tied, then won, the game with a pair of final-frame strikes for a 2-1 comeback victory over the Wild. Hayden Seitz and Valary Dietz each slotted goals for the Bighorns, while Gage Thompson gave Gillette the early lead in the contest. Alexander Rogers took a 35-save win, outdueling Shane Phillips of Gillette with 27 saves.
Yellowstone 3 @ Missoula 7 - Jack Harris put Yellowstone on the board first, but five consecutive goals following the opener pushed the Bruins to a 7-3 victory. Vadim Zubkov was up to his usual tricks with a pair of goals on the night, as Austin Leadbetter, Connor Frye, Keith Zobel, Christian Ward and Wyatt Ploot each scored as well for Missoula. Aaron Finneman, Will Yates also lit the lamp for Yellowstone in addition to Harris. Josh Sample turned aside 23 of 26 in the Missoula net, outdueling a strong performance by Michael Allman, who finished with 42 saves.
Butte 0 @ Bozeman 10 - Gage Blatter and Hazen McKay bagged two goals apiece as the Icedogs romped past Butte 10-0 on Friday. AJ Ruskowski's 12 saves helped him notch the shutout, while Connor Fuchs, Luke McKay, Adam Franklin, Jacob May, Hayden Groth and Rhys Phillips rounded out the onslaught. Casey Mattfeldt of Butte stopped 56 pucks in goal for the Cobras.