Saturday Scores: Nordiques clinch Coastal Division title with win
February 3, 2019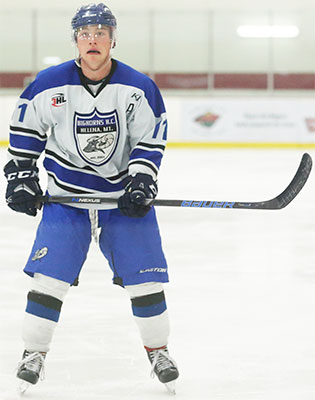 Northeast 2 @ L/A 5 - The Nordiques jumped out to a 5-0 lead and held off a late Generals comeback bid to take a 5-2 victory at home on Saturday. The win clinched the regular season title in the Coastal Division for the Nordiques. Valeri Rykov continued his strong play for L/A with two goals and two helpers on the night, as Sergei Anisimov, Joshua Sanchez and Colby Audette each potted goals as well for the Nordiques. Marc Faia and Deacon More led Northeast to a pair of late tallies in front of 35 saves by John Driscoll. Andrew Ghimpeteanu posted his first win in a Nordiques uniform with 30 saves.
Gillette 2 @ Helena 5 - The Bighorns scored four goals in the third period to erase a 2-1 deficit and avoid an upset on home ice as they toppled the Wild 5-2 on Saturday, which clinched a spot in the Fraser Cup Playoffs for the Bighorns. Elliot Plourde, Luc Cross, Porter Tirrill, Mikhail Gavrilenko and Nicholas Pedersen helped Helena to its comeback win, eclipsing Gillette goals by Jacob Kaminski and Gage Thompson. Carver Thompson finished with 21 saves and a win for Helena, while Aaron LaChance stopped 33 pucks for Gillette.
Yellowstone 3 @ Missoula 7 - Ty Dittman (2g, 2a), John Bannon (1g, 3a) and Austin Leadbetter (1g, 3a) each netted four-point nights to pace the Bruins' 7-3 win over the Quake. Goals by Kyler Fullerton, Trevor Prince and Misha Akatnov rounded out the Missoula offense, while Mason Merager, Brendyn Hewitt and Jack Harris put Yellowstone on the board. Seth Daniel and Evan Williams combined for the 23-save win, while Logan Cooksy suffered the loss despite 42 stops for the Wild.
Great Falls 5 @ Butte 1 - The Americans' offense was firing on all cylinders as they forced Butte's Karl Zodda into a stunnign 74 saves and still closed out a 5-1 victory over the Cobras on the road on Saturday. Payton McSharry scored twice, Ben Rinckey, Cody Dearing and Jack Olson scored once and Viktor Wennberg shared a 9-save win with Cam McIntosh between the pipes for Great Falls. Bryce Gould broke the Americans' shutout bid with a second-period goal for Butte.
Maine 9 @ Cape Cod 3 - Two goals apiece from Chandler Bilodeau and Regan Wintle led the Wild to a 9-3 win over the Islanders. Mitchell Bliss, Luke Church, William Godbout, Emerson Southern and Jason Gretz each scored as well for Maine, while Derek D'Arcy, Tanner Little and Leevi Kervinen put Cape Cod on the board. Daniel Sprague earned the 22-save win over a combined 14 stops from Cape Cod's Maxim Clouser and Josh Chausse.
Wausau 3 @ St. Louis 12 - A rampant Blues attack featuring 10 different scorers marauded the Riverwolves on Saturday in a 12-3 affair. Jacob Wiethaupt and Will Baginski led the way with two-goal efforts, as Ivan Galaguzov, Zach Lodes, Colton Markiewicz, Hunter Muzzillo, Jake Faulkner, Nathan Sargent, Matthew Monreal and Sean Hofstetter each scored as well for St. Louis. Janne Rukamp, Deniss Berdniks and Alexander Kelsall nabbed Wausau's tallies. Mikael Foucher posted his fourth straight win with 24 saves, while Lance Muir Jr. turned aside 31 for Wausau.
Long Beach 1 @ New England 4 - A three-goal third period helped the Stars knock off the Sharks on Saturday. Zachary Cormier, Eric Steeves, Henry Beguelin and James Wilson provided the offense for New England, as Avery Matthews bagged Long Beach's lone goal. Matthew Marini stopped 25 pucks in the win, while Ryan Cortez turned aside a stout 43 for Long Beach.
Texas 7 @ Mid Cities 0 - Bryce Runyan stopped all 28 shots, Michael Redmon scored twice and the Brahmas blitzed the Stars for a 7-0 rout on the road on Saturday. Ian Erdman, Michael Thomas Jr., Matej Palfy, Parker Mara and Stuart Pearson each found twine as well in Texas' win, forcing Mid Cities' Francisco Clark-Silva into 17 saves on 23 shots.
Skylands 3 @ Niagara Falls 0 - Josh Mitchell stood tall with 41 saves for the Powerhawks, but the hosts failed to light the lamp at the other end as the Kings skated to a 3-0 decision on the road. James Clarke, Dylan Dinzik and Aslan Shetov paced Skylands' win with a goal apiece in front of a stellar, 20-save shutout showing by Kavan Johnson.
Wisconsin 0 @ Coulee Region 5 - Two goal-efforts by Flavien Fondadouze and Brandon Ratzloff paced yet another Coulee Region victory, this time 5-0 over the Whalers. Devin Naidow notched a 20-save shutout for the win as Thomas Magnavite added another tally. Caleb Sauer and Kai Tomita shared a 44 save showing between the Wisconsin pipes.
Rochester 2 @ New Ulm 3 (OT) - Michael Savelkoul scored just over three minutes into overtime to give the Steel a 3-2 upset over the Grizzlies at home. James Spaargaren and Keegan Bauman also scored for New Ulm, matching Rochester markers from Peyton Hart and Richard Szabo. Henry Baribeau took the win with 37 saves for the Steel, outmatching Nick Bucklin's 35 stops for Rochester.
Willmar 0 @ Alexandria 9 - Brandon Connett bagged a hat-trick and Ville Hyttinen turned in an 11-save shutout as the Blizzard picked up a key win over the Warhawks on Saturday. Ike Taraszewski, Dallas Duckson, Dylan Giorgio, Tanner Frerichs, Wesley Johnson and Tucker Kruse each scored on a strong offensive night for Alexandria, forcing Lucas Ehrlich into a busy 45-save night in the Warhawks' crease.
Granite City 5 @ North Iowa 2 - One night removed from an overtime thriller, the Lumberjacks took control of Saturday's rematch behind two-goal performances by Tom Nagle and Matt Moran en route to a 5-2 victory over the Bulls in North Iowa. Tyan Pogue also scored for Granite City, while Jimmy McDermott and Evan Junker provided the Bulls' attack. David Mulligan picked up the win once more with 31 saves, while Dysen Skinner suffered the loss despite 30 stops of his own.
Oswego 1 @ Binghamton 9 - Eight skaters scored in front of Casey Boone's 11 saves as the Senators romped past the Stampede 9-1. Seth McArdle led the way with two goals, and was joined by Liam Murphy, Markus Cook, Greg Simmons, Thomas Liebold, Zach Bell, Caden Dearborn and Rory Gresham with Binghamton goals on the night. Dinmukhamed Dzhangarashev also starred for the hosts with four assists. Wade Moak provided Oswego's only goal as Ben White and Manny Legace recorded a total of 43 saves in the Stampede net.
Breezy Point 3 @ Milwaukee 4 (OT) - Chuck Bay scored the overtime-winner go give the Power a 4-3 win over the North Stars.