Jr. Blues close in on playoff spot with sweep
February 4, 2019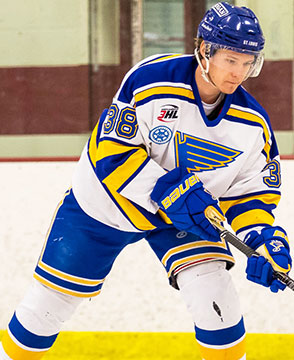 Wausau 1 @ St. Louis 7 - After 20 minutes yielded a 1-1 deadlock, the Blues rattled off six unanswered goals to topple the Riverwolves 7-1 at home on Sunday. Ivan Galaguzov scored twice and added two assists to lead the Blues, who received other goals from Tom Yurisich, Jack Moore, Zach Lodes, Zach Wilson and Matthew Monreal as well as a 23-save effort from Jack Regan. Mitchel Idalski potted Wausau's lone goal as Alexandr Gilev stopped a strong 49 pucks in goal.
New England 8 @ Cape Cod 4 - Five unanswered tallies in the final 26 minutes helped lift the Stars out of a 4-3 deficit to an 8-4 win over the Islanders on Sunday. James Wilson and Henry Beguelin bagged two goals apiece to pace New England's attack, with Zachary Burnham, Derek Lovejoy, Michael Lempiainen and Connor Barter lighting the lamp as well. Leevi Kervinen posted a hat-trick for Cape Cod, as Cole Therrien also scored and Maxim Clouser stopped 25 pucks for the Islanders. Cedric Joubert turned aside 18 shots in the Stars' win.
Wisconsin 1 @ Coulee Region 2 - Matt Janke and Thomas Magnavite tallied back-to-back in the second period to guide the Chill to a close-checking 2-1 win over the Whalers. Stepan Ruta potted Wisconsin's marker in the first period and Caleb Sauer turned aside 31 pucks in the Whalers' cage. Devin Naidow took the win with 24 stops for Coulee Region.
Mid Cities 2 @ Texas 7 - The Brahmas offense erupted on Sunday, netting seven goals in 40 minutes to take a 7-2 victory over the Stars. Stuart Pearson led the way with two goals, Benjamin Lindberg, Parker Mara, Matej Palfy, Tyler Blanchard and Findlay Wood added individual goals and Bryce Runyan stopped 25 pucks in the win. Matthew Taylor and Michal Juscak scored for Mid Cities in front of 35 stops from Noah Kinsinger.
Skylands 3 @ Niagara Falls 2 - Trevor Christopher tallied the game-winning goal as the Kings edged the Powerhawks 3-2 in a tense matchup on Sunday. Justin Hiler and Jake Cicalese also scored for Skylands, while Jacob Robertson and Brandon Snyder netted for Niagara Falls. Tom Fornabia earned the 25-save win, outdueling Noah Spiesz's 30 saves.
Breezy Point 4 @ Milwaukee 6 - Six different skaters found twine to help the Power slip past the North Stars 6-4 at home to close out the weekend. Ryan Payne, Mason Evans, Nick Roberts, Ethan Dabbs, Chuck Bay and Garrett Alton led the attack, outmatching Breezy Point goals from Nick Eddens, Carson Simon, Dan Wieber and Garrett Freeman. Aaron Dickstein picked up the win with 25 saves, while Dan Fielding turned aside 27 for Breezy Point.