Friday Finals: Chill making push for Central lead
February 16, 2019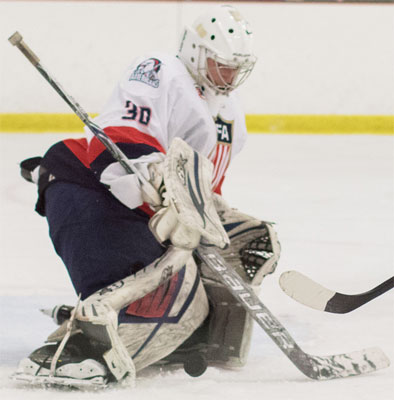 Coulee Region 3 @ Peoria 2 - Thomas Magnavite's second period strike held strong as the Chill held off the Mustangs to snag a 3-2 win on the road. Flavien Fondadouze and Toon De Schepper scored as well for Coulee Region, who led 3-1 after Austin Keil's initial Peoria goal. Connor Bennett pushed Peoria to within one late in the second, but Coulee Region netminder Devin Naidow shut the door on 27 total shots to seal the win, countering 22 from Peoria's Jaden Gardner.
Bozeman 4 @ Helena 3 - Daniel Davis and Hazen McKay each scored in the final four minutes of action to help the Icedogs erase 3-2 deficit and ultimately steal a 4-3 win from the Bighorns on the road. Luke Hartge and Rhys Phelps also lit the lamp in Bozeman's wink, while Luc Cross netted a pair and Elliot Plourde struck once for Helena. AJ Ruskowski took the 38-save victory between the Bozeman pipes, outmatching Alexander Rogers' 28 stops for Helena.
Gillette 3 @ Butte 2 (SO) - Jacob Kamiski and Austin Newson each netted in the shootout to push the Wild past the Cobras 3-2 on Friday. Coleman Varty and Dillon Hale scored in regulation for Gillette, while Jordan Douglass and Wyatt Haakenson did the same for Butte. Cobras netminder Karl Zodda put in another sterling effort with 70 saves on the night, but Aaron LaChance took the win with 36 stops in the Gillette net.
Yellowstone 0 @ Great Falls 5 - Drew Scites knocked away all 18 shots he faced as he led the Americans to a 5-0 shutout against the Quake. Payton McSharry scored twice as Brandon Peterson, Hendrik Robel and Trent Cowden lit the lamp once apiece to fuel the Great Falls offense, firing 79 shots on net in the contest. Michael Allman finished with 74 saves for Yellowstone.
Cape Cod 4 @ L/A 17 - A banner nine-point evening for Valeri Rykov and five points from JP Chauvin led the Nordiques to a comfortable 17-4 win over the Islanders on Friday. Rykov potted six and Chauvin scored 3 in the contest, with Matthew McDermitt joining the multiple-goal crowd with a pair of his own. Rounding out the L/A attack with individual goals were Zack Mullen, Andrew McCormick, Trent Sheldon, Joshua Sanchez, Sergei Anisimov and Connor Kennedy. Leevi Kervinen starred for Cape Cod with two goals for the visitors, as Joshua Delessio and Mike Goroshko struck as well. Hunter Raye took the 15-save win in goal for the Nordiques, outmatching a shared 45 saves from Maxim Clouser and Josh Chausse in the Islanders net.
Niagara Falls 1 @ Skylands 7 - Dylan Dinzik scored twice and Tom Fornabia stopped 22 pucks as the Kings easily topped the Powerhawks 7-1. Aslan Shetov, Zakary Sparks, Jake Cicalese, Trevor Christopher and Dylan Saccone also lit the lamp in the Kings win, while Jacob Robertson netted the lone Niagara marker. Josh Mitchell was strong in the Powerhawks' cage with 73 stops, but Tom Fornabia took the win for Skylands with 22 saves.
Texas 7 @ College Station 4 - The Spirit jumped out to a 3-1 lead early in the matchup, but the Brahmas' potent offense proved too strong as they took down the Spirit 7-4 in South action. Cal Couell led for Texas with two goals as Jack Cooper, Tyler Blanchard, Andrew MacCallum, Stuart Pearson and Joseph Trazzera also scored to fuel the comeback win. Trevor Borlace, Blake Elliott, Brenden Fehlig and Jared Slay put College Station on the board in front of a stellar 65-save effort from Blake Forystek. Thomas Held picked up the win with 22 stops for the Brahmas.
Oswego 2 @ Binghamton 7 - Down 2-0 entering the final 20, the Senators rattled off seven straight strikes to knock off the Stampede 7-2 at home. Joey Gallo and Nick Snyder put Oswego ahead in the middle frame, but a Binghamton resurgence in the form of an Eric Melso hat-trick, two goals from Greg Simmons and individual goals from Adam Morgan and Seth McArdle stole the win. Jeff Zero stopped 22 for the Senators' victory, outdueling Manny Legace with 54 saves for the Stampede.
Alexandria 4 @ Rochester 3 - Wesley Johnson capped off a Blizzard comeback to help his team slip past the Grizzlies 4-3 on Friday. Brett Meister fueled the Alexandria attack with a hat-trick, sparking a comeback after Hunter Hall, Peyton Hart and Nic Leisen pushed Rochester to a 3-1 advantage early. Kyle Hayden picked up another win with 43 saves, while Liam Kelly turned aside 26 for the Grizzlies.
Louisiana 3 @ Mid Cities 1 - Matthew Taylor gave Mid Cities a second-period lead, but three straight from the Drillers saw them take a 3-1 victory in Texas. Ivan Matveev tallied twice, Matthew Butler scored once and Kevin Lake stopped 32 for Louisiana. Noah Kinsinger turned back 40 of 43 for the Stars.
St. Louis 3 @ North Iowa 6 - A fiery, back-and-forth affair eventually went North Iowa's way as the Bulls topped the Blues 6-3 on Friday. Peter Verstegen's two goals led all skaters as Carter Wagner, Matt Dahlseide, Cam Fagerlee and Jimmy McDermott also struck for the Bulls. St. Louis received goals from Hunter Muzzillo, Will Baginski and Sean Hofstetter, as well as 28 saves from Jack Regan. Dysen Skinner took the win with 23 saves between the North Iowa pipes.
New England 5 @ Long Beach 4 - Trevor Arsenault nabbed the game-winning goal as the Stars pushed past the Sharks 5-4 in a goal-filled affair. Also scoring for New England were Connor Barter, Cody Lappas, Colin Hughes and Zachary Burnham, as Timothy Pesek stopped 30 pucks for the win. Dino Mukovoz led the Sharks with two goals, joining Jack Pensa and Cade Lambdin with goals on the day. Ryan Cortez suffered the loss despite 26 saves in net.
New Ulm 5 @ Breezy Point 4 (SO) - Michael Savelkoul, Sam Ayd and Jake Ford each found twine in the shootout as the Steel stole a 5-4 comeback win over the North Stars. Savelkoul also scored in regulation for New Ulm, alongside Keegan Bauman and Jarrett Cammarata, who posted two on the day. Breezy Point received a pair from Garrett Freeman and lone goals from Cooper Hoheisel and Dan Wieber. Henry Baribeau received credit for the win with 21 saves in the Steel cage, while Jacob MacLennan put in a stellar shift for the North Stars with 45 saves.
Willmar 1 @ Granite City 4 - Cameron Knowlton put the Warhawks ahead early, but the Lumberjacks would not be denied as they posted four straight goals the final 40 to drop Willmar 4-1 on Friday. Kearby Larson, Sam Ohmes, Hunter Schwehr and Matt Moran fueled Granite City's offensive blitz, while Matt Fitzgerald held strong in net with 15 saves. Willmar's Lucas Ehrlich stopped 33 of 37 pucks in the loss.
Wisconsin 4 @ Wausau 2 - Justin Schwartzmiller stood out with two goals on the night to lead the Whalers to a 4-2 win over the Riverwolves on Friday. Joining Schwartzmiller in the goal column for Wisconsin were Sam Hanson and Tanner Mros, while Kai Tomita stopped 20 pucks between the pipes. Tanner Eskro and Alexander Kelsall scored the two Wausau markers in front of 61 saves from Alexandr Gilev.