Saturday Scores: Bulls punch playoff ticket with sweep
February 17, 2019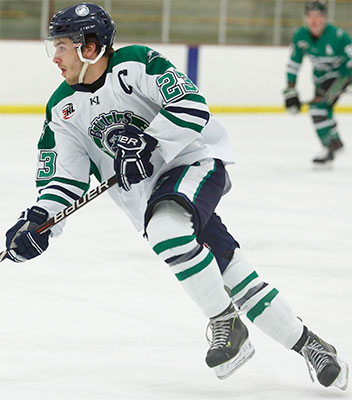 St. Louis 4 @ North Iowa 7 - Another tense cross-divisional matchup between the Bulls and Blues saw plenty of offense on Saturday, as both teams potted three in the first period en route to a 7-4 North Iowa win, which clinched a playoff berth for the Bulls. Harrison Stewart, Brendan Studioso, Joey Petronack, Jordan Roo, Jarod Blackowiak, Cam Fagerlee and Jimmy McDermott potted the Bulls' tallies, while Joey Boccardi, Hunter Muzzillo, Matthew Monreal and Blake Dangos netted the St. Louis goals. Dysen Skinner turned aside 17 to earn the win, outdueling a combined 22 saves from Mikael Foucher and Jack Regan.
New England 8 @ Long Beach 1 - Cody Lappas' four-goal effort highlighted a strong Stars' attack as they took down the Sharks 8-1 on Saturday. Connor Barter nabbed a pair of goals of his own, while Colin Hughes and Zachary Cormier rounded out the New England offense as Cedric Joubert stopped 23 pucks in goal. Eric Immel tallied the lone Long Beach goal in front of Tim Brillaud's 14 saves.
Niagara Falls 0 @ Skylands 13 - Josh Sears posted a 13-save shutout as the Kings' offense exploded for a 13-0 victory over the Powerhawks at home. Zakary Sparks starred with four goals, Trevor Christopher and Andrey Yakovlev bagged a pair apiece and Justin Hiler, Josh Baker, James Clarke, Jake Cicalese and Dylan Saccone lit the lamp as well. Jonathan Sebastiano put forth a strong showing in the 'Hawks' cage, but his 69 saves fell just short.
Texas 4 @ College Station 0 - A fifth shutout of the season for Thomas Held and two goals from Benjamin Lindberg saw the Brahmas take a 4-0 win over the Spirit on Saturday. Michael Thomas Jr. and Findlay Wood also found twine for Texas, as they peppered Spirit netminder CJ Boothe with 58 shots. Boothe finished with 54 saves.
L/A 4 @ Maine 2 - Three goals in the first 35 minutes gave the Nordiques the jump they needed to ride to a 4-2 win over the Wild. Valeri Rykov scored two goals, stretching his three-game streak total to 10 goals, as Cole Ouellette and Andrew McCormick found twine as well. Chandler Bilodeau and Mathieu Nadeau provided Maine's scoring in front of Nick Vardon's 54 saves, but Jason St. Pierre shut down 13 of 15 pucks in the L/A net for the win.
Coulee Region 4 @ Peoria 0 - NA3HL scoring leader Brady Lindauer bagged a hat-trick and Devin Naidow turned aside all 18 shots as the Chill continued their strong run of play with a 4-0 win over the Mustangs on the road. Christopher Drews also scored for Coulee Region, while Luke Weberg finished with 32 stops for Peoria.
Breezy Point 0 @ Rochester 4 - Nick Bucklin starred with a 27-save shutout between the pipes to fuel the Grizzlies' 4-0 win victory over the North Stars on Saturday. Richard Szabo, Hunter Hall, Vladislav Sorokin and Matthew DeRosa lit the lamp, firing 50 shots on Breezy Point netminder Jacob MacLennan, who finished with 47 saves.
New Ulm 1 @ Granite City 4 - The Lumberjacks potted three unanswered goals in the final 40 to break a 1-1 deadlock and topple the Steel 4-1 on Saturday. Grant Troumbly, Zack DeBoom, Jordan Drobinski and Ryan Pogue lit the lamp for Granite City, while Hunter Johnson nabbed New Ulm's goal. David Mulligan took the win with 17 saves in goal for Granite City, while Henry Baribeau turned aside 27 in the opposite crease.
Wisconsin 5 @ Wausau 2 - Wisconsin jumped out to a 2-0 lead early and kept the pressure on for the rest of the game to ultimately top the RiverWolves 5-2 in Wausau. Jeff Bishop led with two goals, as Justin Schwartzmiller, Sam Hanson and Alex Kesler scored as well for Wisconsin. Kai Tomita earned the win with 37 saves, conceding only to Justin Paschke and Mitchel Idalski of Wausau, who received 60 saves from Alexandr Gilev.
Helena 7 @ Missoula 0 - Two goals apiece from Porter Tirrill and Kaden Lindberg and 36 saves from Alexander Rogers propelled the Bighorns to a 7-0 statement win over the Jr. Bruins on Saturday. Elliot Plourde, Hayden Seitz and Alex Bailey also struck for Helena, as they fired 41 shots on Missoula netminder Josh Sample, who finished with 34 stops.
Gillette 4 @ Butte 7 - Another sterling effort from Butte goaltender Karl Zodda featured 85 saves en route to a 7-4 Cobras win over the Wild on Saturday. Charles Blandin struck twice for Butte, with Joe Erickson, Bryce Gould, Wyatt Haakenson, Tyson Stovin and Will Shults added individual markers as well. Robin Bagley also helped fuel the attack with four helpers on the night. For Gillette, Dillon Hale led with a pair of goals, while Austin Newson and Keedin Denny each tallied once. Netminder Cody Grogan finished with 37 saves in the Wild net.
Yellowstone 1 @ Great Falls 5 - Logan Cooksy made 60 saves for the Quake, but the offense just couldn't get off the ground as Great Falls rattled off five straight goals in the first 40 to eventually take a 5-1 win over Yellowstone on Saturday. Levi Mese potted a pair, Justin Ohnstad, Hendrik Robel and Payton McSharry added one apiece and Cam McIntosh stopped eight of nine shots in Great Falls' win, while Nick Castro soiled McIntosh's shutout bid with a late goal for Yellowstone.