NA3HL players showcase offense on Day 1 of Top Prospects
February 19, 2019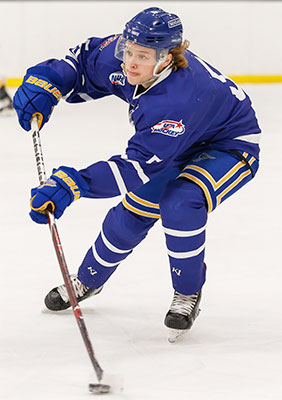 In front of over 200 college and junior scouts, NA3HL players thrilled the crowds with a nice display of offense on Day 1 of the 2019 NA3HL Top Prospects Tournament in Attleboro, MA.
The NA3HL Top Prospects Tournament is played in conjunction with the NAHL Top Prospects Tournament. The event is one of the most highly-scouted events of its kind, with hundreds of junior, NCAA and NHL again expected in attendance this season.
Fans can watch all the action live and in HD on
HockeyTV
2019 NA3HL Top Prospects schedule (all times eastern):
Monday, February 18th
Central 5 vs. Coastal 3
Northeast 1 vs. Frontier 2 (OT)
West 6 vs. South 2
Coastal 3 vs. Frontier 2 (SO)
Central 5 vs. West 2
South 1 vs. Northeast 4
Tuesday, February 19th
8:00am: Central vs. Frontier
10:00am: West vs. Northeast
12:00pm: South vs. Coastal
Central 5 vs Coastal 3 - Dino Mukovoz (Long Beach Sharks) put the Coastal ahead early, but four unanswered Central tallies boosted them to a 5-3 decision on day one of the tournament. Deric Richison (Evansville Jr. Thunderbolts) leveled the score in the opening 20, before Justin Schwartzmiller (Wisconsin Whalers) bagged a pair and Ivan Galaguzov (St. Louis Jr. Blues) added another as the Central attack heated up. Connor Barter (New England Stars) and Tyler Rudek (Northeast Generals) kept it close in the third with more Coastal markers, but Sean Hofstetter (St. Louis Jr. Blues) sealed the Central victory with a strike in the final frame. Central goalie Aaron Dickstein (Milwaukee Power) took the win with 29 saves, outmatching a 31-stop effort from Ryan Cortez (Long Beach Sharks).
Northeast 1 vs Frontier 2 (OT) - A close-checking 60-minute battle required just under a minute of extra time to be decided, as Gage Thompson (Gillette Wild) netted the GWG to help the Frontier kick off the tournament on the right foot with a 2-1 win over the Northeast. Trevor Christopher (Skylands Kings) tallied the opener early in the second period, but fewer than 10 minutes later, Payton McSharry (Great Falls Americans) had a response for the Frontier. Both teams' netminders were stellar in the contest, as Jeff Zero (Binghamton Jr. Senators) of the Northeast and Viktor Wennberg (Great Falls Americans) of the Frontier each shutout their opponent during their portion of the contest. Northeast's Kavan Johnson (Skylands Kings) and Frontier's Michael Allman (Yellowstone Quake) also stood out between the pipes with 18 and 25 saves, respectively.
West 6 vs South 2 - A dominant display by the West saw them open up a 4-0 advantage inside the first 20 minutes en route to a 6-2 victory over the South on Monday. Zack DeBoom (Granite City Lumberjacks) and Carson Simon (Breezy Point North Stars) led with two goals apiece, with DeBoom's pair coming in that quartet of first period goals alongside individual tallies from Simon and Jimmy McDermott (North Iowa Bulls). Riley Sloane (Louisiana Drillers) ended the onslaught with a South strike midway through the second, but Simon added another before the frame was finished to restore the four-goal lead. Brett Meister (Alexandria Blizzard) and Stuart Pearson (Texas Brahmas) then traded tallies in the third to close out the contest. Between the pipes, Lucas Ehrlich (Willmar Warhawks) earned the win with 27 stops, while Bryce Runyan (Texas Brahmas) suffered a rare loss despite 26 saves.
Coastal 3 vs Frontier 2 (SO) - After a see-saw, four-goal first period gave way to 40 scoreless minutes, Colby Audette (L/A Nordiques) finished off the Coastal victory with a slick shootout move and goal as his team topped the Frontier 3-2 in the teams' second game of the tournament. The Frontier dominated the opening five minutes of the tilt, featuring some slick tic-tac-toe passing between Bozeman Icedogs teammates Hazen McKay and Luke Hartge before another Bozeman forward, Dominic Canic, finished it off. The Frontier added another just two minutes later, as Payton McSharry (Great Falls Americans) worked a give-and-go with Canic for their team's second strike. But the Coastal responded quickly, notching two of their own in the following 10 minutes. Cade Lambdin (Long Beach Sharks) put his hands on display with a nice goal to open the Coastal account 10 minutes in, setting the stage for Valeri Rykov (L/A Nordiques) to snipe the tying effort five minutes later. From there, both netminders shut the door as Andrew Ghimpeteanu (L/A Nordiques) took the win for Coastal with 34 saves and Viktor Wennberg (Great Falls Americans) turned aside 32 for the Frontier.
Central 5 vs West 2 - Justin Schwartzmiller (Wisconsin Whalers) again stole the show in the Central's second matchup, posting another two-goal performance en route to a 5-2 win over the West. Brandon Hay (Peoria Mustangs) got the Central scoring started with a first period tally, clearing a path for teammate Brandon Ratzloff (Coulee Region Chill) to double the advantage four minutes later. Goals came in bunches after that -- Jake Ford (New Ulm Steel) returned fire for the West with a quick top-shelf shot before Ivan Galaguzov (St. Louis Jr. Blues) put the Central back ahead by two, followed by a Carson Simon (Breezy Point North Stars) marker just 22 seconds later. Schwartzmiller's two goals came in the second and third periods to put the game on ice. Mikael Foucher's (St. Louis Jr. Blues) 26 saves came in clutch for the Central, while Lucas Ehrlich (Willmar Warhawks) stopped 33 in the loss.
South 1 vs Northeast 4 - The final game of the day saw the Northeast jump out to an early 2-0 lead before ultimately cruising to a 4-1 win over the South. Greg Simmons (Binghamton Jr. Senators) and Tommy Kilway (Oswego Stampede) helped the Northeast start hot with first-period goals. After a scoreless second, a pair of Binghamton representatives, Mike Padgeon and Dinmukhamed Dzhangarashev sandwiched the lone South goal by Vito Carlo (Atlanta Capitals) to snag the 4-1 win. Kavan Johnson (Skylands Kings) earned the win between the pipes, outdueling Alexandr Gilev (Wausau RiverWolves) in the South net.