Saturday Scores: Lumberjacks, Brahmas capture division crowns
February 24, 2019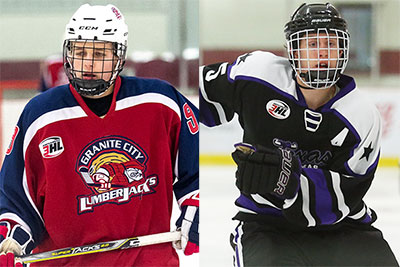 Granite City 5 @ Wisconsin 2 - Five different skaters scored as Matt Fitzgerald stopped 19 of 21 and the Lumberjacks topped the Whalers 5-2 in Wisconsin. The win secured the West Division regular season title for the Lumberjacks. Goals by Tom Nagle, Montana Streit, Ryan Pogue, Hunter Schwehr and Brad Amundson pushed Granite City over the top. Justin Schwartzmiller posted both Wisconsin goals, as Caleb Sauer and Kai Tomita combined for 38 saves between the Whalers' pipes.
Texas 5 @ Atlanta 0 - Thomas Held stopped 27 of 27 and Stuart Pearson led the attack with two goals as the Brahmas went to Atlanta and toppled the Capitals 5-0 last night. With the win, the Brahmas secured the South Division's regular season crown. Matej Palfy, Findlay Wood and Ian Erdman fueled the Texas win as the Brahmas forced Patrick Egdorf and Quinn Yeager into 39 shared saves for the Capitals.
Maine 0 @ New England 3 - A 23-save shutout from Cedric Joubert guided the Stars to a 3-0 win over the Wild on home ice last night. James Wilson, Christopher Barone and Zachary Burnham tallied goals as New England fired 49 shots on Nick Vardon of Maine, who finished with 46 saves.
L/A 7 @ Niagara Falls 0 - Colby Audette struck twice and Hunter Raye faced down each shot against to lead the high-octane Nordiques to a 7-0 win in Niagara Falls on Saturday. Hans Watson, Joshua Sanchez, Joe Bisson, Valeri Rykov and Sam Frechette lit the lamp as well for L/A.
Long Beach 5 @ Skylands 7 - A wild, seven-goal first period set the stage for Cade Lambdin of Long Beach and Skylands' James Clarke to each bag hat-tricks as the Kings came out on top in a 7-5 decision on Saturday. Two more goals from Trevor Christopher, as well as individual markers by Dylan Saccone and Zakary Sparks, fueled Skylands' victory, as Samuel Willis and Dino Mukovoz rounded out the Sharks' total. Josh Sears took the win between the pipes with 27 stops, outmatching a shared 40 stops from Ryan Cortez and Tim Brillaud.
Wausau 3 @ Coulee Region 4 - The RiverWolves held a 3-2 advantage late in the third period, but a pair of Chill goals in the final 1:10 broke Wausau hearts and saw them strengthen their hold on the Central Division with a 4-3 win, their sixth victory in a row. Aslan Akervik tallied twice to put Coulee Region up early, before Tanner Eskro, Janne Rukamp and Jack Piskula posted the Wausau markers, pushing them ahead with five minutes to play, before Thomas Magnavite and Brady LIndauer came through in the clutch for the Chill. Alexandr Gilev was stout with 42 saves for Wausau, but Gunnar Snyder took home a 19-save win for the Chill.
Peoria 1 @ Willmar 2 (SO) - Chase VanDeVere went home the hero with the shootout winner as the Warhawks knocked off the Mustangs 2-1 in an upset win at home. Netminder Lucas Ehrlich put forth a remarkable effort with 45 saves for the Warhawks in the contest, stopping a pair of Peoria skaters in the shootout as well. Marquez Ginger of Willmar and Ian McHenry of Peoria recorded the only offense of the evening just 25 seconds apart in the first period. Peoria goalie Jaden Gardner finished with 28 saves.
Rochester 5 @ North Iowa 4 (OT) - Down by one with 34 seconds to play, Lucas Newman forced overtime with a Grizzlies goal before also netting the game-winner at 3:14 of the extra frame to send Rochester home with a 5-4 win over the Bulls and a weekend sweep. Vladislav Sorokin also struck twice for Rochester and Nic Leisen added a goal of his own, while Peter Verstegen, Konnor Carlson, Matt Dahlseide and Jarod Blackowiak netted North Iowa markers. Evan Babekuhl was titanic for the Bulls with 47 saves, but fell just short as Nick Bucklin took the 26-stop win for Rochester.
New Ulm 14 @ Evansville 0 - A hat-trick by Keegan Bauman and three separate two-goal efforts highlighted a banner evening for the Steel, as they topped the Thunderbolts 14-0 on the road. Carson Sandwick, Jarrett Cammarata and Brian Oare tagged two goals apiece as Jacob Halvorson, Jake Ford, Jordan Cooper, Hunter Johnson and Jack Parks rounded out the scoring. Noah Friedrich recorded an 11-save shutout, while Noah Brandau and Stephen Friedland of Evansville put up a shared 73 saves.
Alexandria 8 @ Breezy Point 1 - Dylan Giorgio's two-goal, three assist evening led a strong Blizzard offense to an 8-1 win over the North Stars on Saturday. Joe Dokken tallied twice, Brett Meister, Brandon Connett, Jack Powell and Dylan Mattson scored once apiece and Ville Hyttinen stopped 27 pucks in the win. Dan Wieber posted the lone Breezy Point goal as Jacob MacLennan stopped 33 in net.
Butte 3 @ Missoula 12 - Two goals in the first 2:40 of the game from Vadim Zubkov set the stage for what ended up as a four-goal first period and five-goal game for him in a 12-3 Missoula win over Butte last night. MIsha Akatnov and Ty Dittman starred as well with two goals apiece, as Christian Ward, Trevor Prince and Connor Frye recorded individual goals. Seth Daniel earned the win between the pipes, stopping 16 of 19 and allowing goals only to Daniel Liner, Robin Bagley and Marshall Bragg of Butte. Cameron Cornish of the Cobras finished with 30 saves.
Yellowstone 5 @ Gillette 6 - 23 combined saves from Cody Grogan and Shane Phillips and Jacob Kaminski's two goals led the Wild to a tense 6-5 victory over the Quake on home ice. Coleman Varty, Ethan Becker, Gage Thompson and Tristan Avoletta scored for Gillette. Jack Harris posted two for Yellowstone, with Nick Castro, Mason Merager and Gabe Huntley finding twine as well. Logan Cooksy finished with 65 saves for the Quake.
Helena 8 @ Bozeman 4 - Ian Zaleski and Ricards Groskops tallied twice apiece in front of 25 saves from Alexander Rogers to help the Bighorns rattle off five unanswered goals in the final 25 minutes and take an 8-4 win over the Icedogs in Bozeman. Darren Donovan, Mikhail Gavrilenko, Elliot Plourde and Hayden Seitz netted as well for Helena, while Daniel Davis led Bozeman with two goals, joining Hazen McKay and Dominic Canic on the scoresheet. AJ Ruskowski turned aside 38 pucks in the loss for the Icedogs.