Sunday Wrap-Up: WarHawks, Wild get big wins
February 25, 2019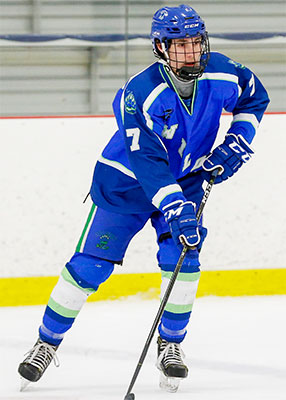 Peoria 1 @ Willmar 4 - Netminder Nelson Schiiler put up a tremendous show in goal for Willmar, stopping 44 of 45 pucks to backstop another Warhawks win, this time 4-1 over the Mustangs. Elijah Slagter scored twice and Brandon Holt and Cameron Knowlton nabbed individual goals in the win, while Austin Keil posted the lone Peoria marker. Luke Weberg stopped 20 shots in the loss.
Northeast 5 @ Maine 6 - Chandler Bilodeau tallied a hat-trick to carry the Wild to a 6-5 win over the Generals on Sunday. William Godbout, Luke Church and Kadin Mason also scored to put Maine ahead, before Alex LePage netted twice in the third period and Thad Marcola added another for a late Northeast comeback bid, which was held off by Maine's Tom Spero, who finished with 26 saves. Tyler Rudek and Marc Faia also scored for Northeast in front of 11 stops by John Driscoll.
L/A 6 @ Niagara Falls 0 - A fast start fueled the Nordiques offense on Sunday, as they skated to a 6-0 decision over the Powerhawks. Joshua Sanchez, Sergei Anisimov, Donovan Tehan, Hans Watson, Valeri Rykov and Zack Mullen each lit the lamp in the first period alone to seal the L/A win early on. Jason St. Pierre recorded three saves for the shutout, while Josh Mitchell faced down 23 of 29 for Niagara Falls.
Long Beach 4 @ Cape Cod 7 - Down 7-1 late in the third, Long Beach rallied with three goals to put pressure on Cape Cod, but the Islanders held strong for a 7-4 win. Mike Goroshko netted a pair for Cape Cod, with Jimmy Dravage, Tanner Little, Joshua Dolessio, Leevi Kervinen and Daniel Bazarin finding twine as well. For Long Beach, Matthew Victurine led with two goals, and Cade Lambdin and Brandon Cohen lit the lamp.