Brahmas get revenge on Stars with 4-1 win on Wednesday
February 28, 2019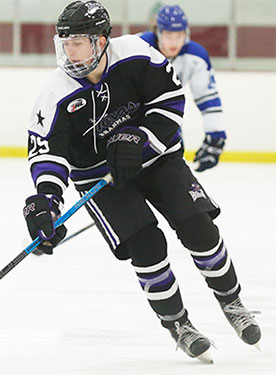 Mid Cities 1 @ Texas 4 – The Texas Brahmas got some revenge from the night before as Stuart Pearson and Jack Cooper each had a goal and an assist as the Brahmas picked up a 4-1 home win on Wednesday, which split the mid-week series after the Stars won 2-1 on Tuesday.
Texas jumped out to an early 2-0 lead in the 1st period with goals thanks to Cooper's 25th with assists to Joseph Trazzera and Pearson, and Ian Erdman's 8th goal of the season with Cooper and Pearson picking up assists.
In the 2nd period, the Stars closed the gap to 2-1 with their lone goal from Nick Solema, who was the overtime hero from the night before with an assist to Michal Juscak. However, the Brahmas would respond with Cory Scull's first goal of the season with assists to Parker Mara and Cal Couell to make it 3-1. The just :45 seconds later, Pearson scored his 21st goal of the season with assists to Cooper and Tyler Blanchard to make it a 4-1 final.
Thomas Held picked up the win in goal for Texas, making 15 saves, while Stars goalie Noah Kinsinger played well in the loss, making 51 saves.