NA3HL announces Divisional Stars of the Week presented by Bauer Hockey
February 28, 2019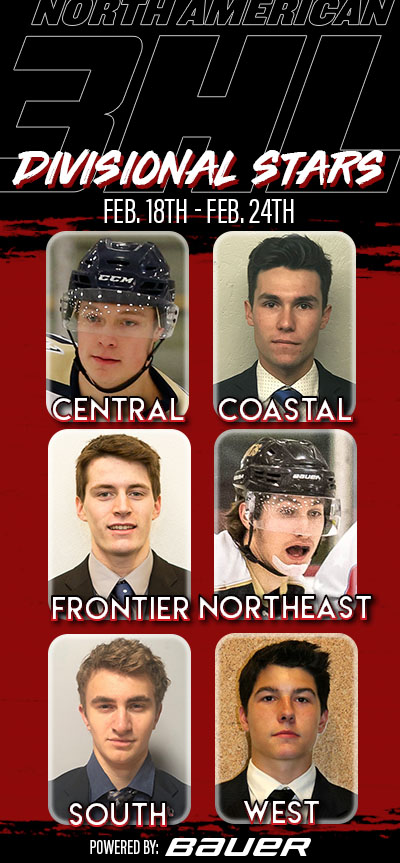 The North American 3 Hockey League (NA3HL) today announced the Divisional Stars of the Week presented by Bauer Hockey for the week ending February 24, 2019. The divisional stars of the week are awards given each week of the regular season to the top-performing players in each of the six divisions of the NA3HL as nominated by their head coaches.
Central Division Star of the Week: Justin Schwartzmiller, F, Wisconsin Whalers
The Whalers went just 1-2 last week, but Schwartzmiller was in fine form. Entering the week with seven goals in his prior six games, the forward netted a hat-trick on Thursday – his third of the season. Though he was then held scoreless on Friday, Schwartzmiller responded well on Saturday with two goals against a strong Granite City team. In total, Schwartzmiller boasts 33-21—54 in 43 outings this year, and has found the scoresheet in 14 of his last 18.
2nd Star: Brandon Ratzloff, F, Coulee Region Chill
Honorable Mention (alphabetical): Aslan Akervik, F, Coulee Region Chill – Jaden Gardner, G, Peoria Mustangs – Sam Hanson, F, Wisconsin Whalers
Coastal Division Star of the Week: Chandler Bilodeau, F, Maine Wild
After seeing his four-game point streak snapped the week prior, Bilodeau suffered another scoreless game on Saturday before rebounding in monumental fashion on Sunday. The forward netted three goals – including the GWG – and three assists to carry the Wild's 6-5 upset win over the Generals. That explosive outing marked his first game with five or more points this season, and his fourth with three or more in the month of February alone.
2nd Star: Matthew Victurine, F, Long Beach Sharks
Honorable Mention (alphabetical): None
Frontier Division Star of the Week: Christian Ward, F, Missoula Jr. Bruins
A late addition to the 2018-19 Bruins, Ward has been magnificent in his 11 games this season, notching multiple points in nine of those. Last week was no different, with the Thunder Bay, ON native notching seven more points to bring his season total to 27. Friday saw him bag a pair of goals and an assist as he factored in on all three Missoula markers in a tough 4-3 OT loss to second-ranked Helena. He kept the good times rolling into Saturday's win over Butte, scoring once shorthanded and setting up a trio of tallies for his fourth game with four or more points since joining the team.
2nd Star: Ricards Groskops, D, Helena Bighorns
Honorable Mention (alphabetical): Jack Harris, F, Yellowstone Quake – Dylan Rumpke, F, Yellowstone Quake – Drew Scites, G, Great Falls Americans – Gage Thompson, F, Gillette Wild – Coleman Varty, F, Gillette Wild – Ian Zaleski, F, Helena Bighorns – Vadim Zubkov, F, Missoula Jr. Bruins
Northeast Division Star of the Week: Zakary Sparks, F, Skylands Kings
Sparks came in hot with eight points in two games entering last week's action, and didn't cool off a bit through a back-to-back set against the Sharks. Skylands toppled Long Beach in both games by a combined 11-7, with Sparks accounting for seven of those 11 strikes. Sparks nabbed a power-play goal in each contest and set up five goals – two on Friday, three on Saturday – to increase his point streak to four games (7-8—15).
2nd Star: Dylan Dinzik, D, Skylands Kings
Honorable Mention (alphabetical): None
South Division Star of the Week: Andrei Rusakov, F, Atlanta Capitals
Atlanta split with top-ranked Texas on the weekend, taking a tight shutout win on Friday before being shutout on Saturday. Rusakov featured heavily with three assists on Atlanta's four regulation-time goals on Friday, stretching his personal point streak to eight games and marking his third game with three or more points in his last four outings. The Capitals' second-leading scorer now boasts 22-33—55 on the year and a team high-tying 13 power-play assists after his apple on the man-advantage Friday.
2nd Star: Vito Carlo, D, Atlanta Capitals
Honorable Mention (alphabetical): None
West Division Star of the Week: Lucas Newman, F, Rochester Grizzlies
The name of Newman's game last week was "clutch," as the Rochester native helped guide his team to a pair of key wins over North Iowa with well-timed tallies. On Friday, he featured with a third-period goal and two assists en route to a 4-1 win. Saturday presented more of a stage – as the Grizzlies trailed 4-3 with under a minute to play, Newman lit the lamp at 19:26 to force overtime, where he also bagged the game-winning goal. In addition to his two key goals, Newman also notched an assist for his second straight three-point game and third straight multi-point effort.
2nd Star: Jarrett Cammarata, F, New Ulm Steel
Honorable Mention (alphabetical): Brad Amundson, F, Granite City Lumberjacks – Dylan Giorgio, F, Alexandria Blizzard – Dylan Mattson, F, Alexandria Blizzard – Vladislav Sorokin, F, Rochester Grizzlies – Montana Streit, F, Granite City Lumberjacks