Friday Finals: Bozeman, Rochester clinch playoff spots with wins
March 2, 2019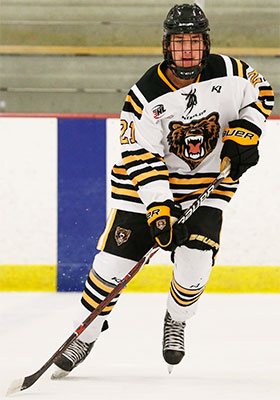 Gillette 1 @ Bozeman 4 - Hazen McKay logged a pair of goals and AJ Ruskowski stopped 39 of 40 to help the Icedogs to a 4-1 victory over the Wild on Friday, which clinched a spot in the Fraser Cup Playoffs for the Icedogs. Luke McKay and Dominic Canic also scored for Bozeman, eclipsing George Stilson's lone goal for Gillette. Cody Grogan and Aaron LaChance posted a combined 26 saves for the Wild.
Rochester 13 @ Evansville 0 - The Grizzlies kept rolling with a stout offensive effort on Friday, notching a 13-0 win over the Thunderbolts. Oskar Stahl netted a hat-trick, Lukas Jenkins, Hunter Hall and Vladislav Sorokin potted a pair apiece and Matthew DeRosa, Joey Fodstad, Lucas Newman and John Rowell each found twine as well. Nick Bucklin stopped 10 pucks for the shutout win, while Jack Cooper and Noah Brandau shared a 62-save performance.
Binghamton 7 @ Skylands 3 - The Senators strengthened their hold on the Northeast Division with a 7-3 win over Skylands on Friday. Markus Cook scored twice, Mike Padgeon, Seth McArdle, Devin Hamm, Caden Dearborn and Eric Melso each scored once and Thomas Sullivan stopped 33 of 36 shots for Binghamton. The Kings received two goals from Trevor Christopher, as well as a single strike from Dylan Saccone and 53 saves from Josh Sears in net.
Atlanta 6 @ College Station 1 - Cole Thomas Johnson tallied two on the night to lead the Capitals past the Spirit 6-1 on the road. Quinn Yeager backstopped the win with 23 saves as Andrei Rusakov, Ayrton Cornic, Jake Pisarcik and Joey Lajcaj lit the lamp as well. Blake Elliott posted the lone Spirit strike in front of a stunning 74-save effort from CJ Boothe.
Wisconsin 2 @ St. Louis 7 - Four unanswered goals in the final 40 saw St. Louis break open a 3-2 game and take a 7-2 win over the Whalers. Zach Lodes led with a hat-trick on the night, as Hunter Muzzillo, Tom Yurisich, Jacob Wiethaupt and Dante Jones lit the lamp as well. Mikael Foucher stopped 19 pucks for the win, conceding only to Justin Schwartzmiller and Stepan Ruta. Kai Tomita finished with 27 saves for the Whalers.
Wausau 1 @ Alexandria 13 - Four Blizzard skaters logged two or more goals as they toppled the RiverWolves 13-1 on home ice. Dylan Giorgio starred with a hat-trick, Ike Taraszewski, Brett Meister and Tucker Kruse notched two apiece and Joe Dokken, Tanner Frerichs, Riley Scanlon and Wesley Johnson each struck once. Kyle Hayden took the win between the pipes with 18 saves. Tanner Eskro scored the only Wausau goal in front of a shared 56 saves by Micah Hershey and Alexandr Gilev.
New England 3 @ Northeast 4 - Trailing 3-1 entering the final frame, Cole Therrion netted his second goal of the game as the Generals stormed back to take a 4-3 win with their final two goals each coming in the final three minutes of play. James Wilson, Derek Lovejoy and Eric Steeves put the Stars ahead of Therrion's initial Northeast tally through 40, before Tami Merilainen put the Generals within one at 9:20 and Therrion and Carson Asper lit the lamp 18 seconds apart to draw level with, then surpass, New England. Jeb Barrett took the 24-save win, outmatching Matthew Marini's 44 stops for the Stars.
Willmar 1 @ Breezy Point 2 - It was all Cooper Hoheisel for the North Stars on Friday as the forward netted a pair of goals in the final 30 minutes to guide them to a 2-1 win over the Warhawks. Brandon Holt pushed Willmar to within one after Hoheisel's second lifted Breezy Point ahead by a pair, but Jacob MacLennan allowed no more goals as he stopped 26 of 27 for the win. Lucas Ehrlich turned aside 24 of 26 in the Willmar cage.
Granite City 3 @ North Iowa 0 - David Mulligan recorded a 30-save shutout to mark a resounding 3-0 win for the Lumberjacks over fellow West power North Iowa. Jordan Olson, Matt Moran and Hunter Schwehr tickled the twine on then night, as Dysen Skinner put forth a respectable 28 stops in the Bulls' cage.
Oswego 9 @ Niagara Falls 1 - Rich Hart and Dylan Candleana each scored twice to pace the Stampede's 9-1 victory over the Powerhawks on the road. Jared Berry, Joey Gallo, Nick Snyder, Wade Moak and Elijah Morris each scored as well in front of 23 saves by Manny Legace. Cam Orzechowski was the lone 'Hawk to score, as Jonathan Sebastiano turned aside 50 shots for Niagara Falls.
Great Falls 2 @ Helena 3 - A clash of Frontier titans went the way of the Bighorns in Helena on Friday, as Darren Donovan played hero with the game-winning goal late in the third period for the 3-2 decision over the Americans. Cody Dearing put Great Falls ahead first in the second period, but Kaden Lindberg and Justin Sullivan responded for the hosts to head into the third with a 2-1 advantage. Lindros Beard then tied things up early in the frame, setting up plenty of drama before Donovan sealed the Helena win. Alexander Rogers earned the 38-save victory, outdueling Drew Scites' 32 saves for Great Falls.
Butte 2 @ Yellowstone 3 - The Quake jumped out to a 3-0 lead through 40 and held off a tenacious Cobras comeback bid to slip by with a 3-2 win on Friday. Will Yates, Nick Castro and Ryan Lovelace each scored for the comfortable lead, but Bryce Gould and Tyson Stovin struck just 1:11 apart to get Butte back into the game and within a goal. Michael Allman stopped 39 for the win, while Karl Zodda faced the tough loss despite 46 stops of his own for Butte.