NA3HL announces Divisional Stars of the Week presented by Bauer Hockey
March 6, 2019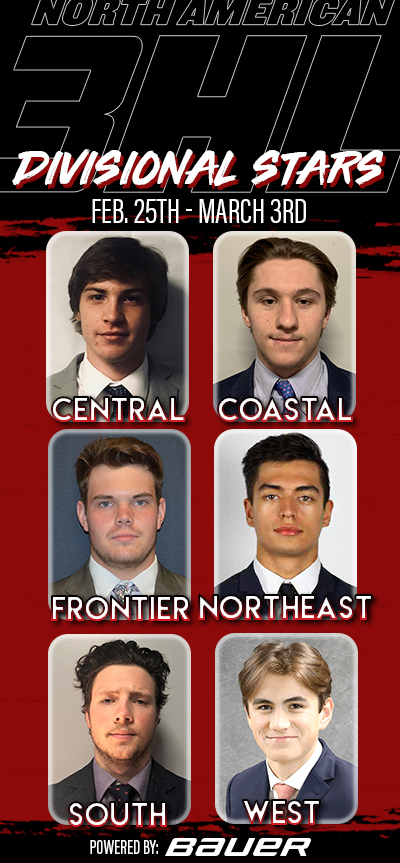 The North American 3 Hockey League (NA3HL) today announced the Divisional Stars of the Week presented by Bauer Hockey for the week ending March 3, 2019. The divisional stars of the week are awards given each week of the regular season to the top-performing players in each of the six divisions of the NA3HL as nominated by their head coaches.
Central Division Star of the Week: Jared Wisely, F, Peoria Mustangs
Wisely entered the week mired in a five-game pointless drought, but snapped it in fashion in the Mustangs 7-1 win over the Whalers on Sunday. The Chillicothe, IL native bagged his third two-goal game of the year – including one tally while shorthanded – and added a pair of helpers to top off the victory. In total, Wisely boasts 14-18—32 in 44 games this season.
2nd Star: Mikael Foucher, G, St. Louis Jr. Blues
Honorable Mention (alphabetical): Toon De Schepper, D, Coulee Region Chill – Brady Lindauer, F, Coulee Region Chill – Zach Lodes, F, St. Louis Jr. Blues – Tristan Trudel, F, Peoria Mustangs
Coastal Division Star of the Week: Cole Therrien, F, Northeast Generals
The Generals took two key wins last week over New England and Maine, with their attacking efforts spearheaded by Therrien. The forward struck for two goals in each contest and went +2 in the week. Therrien shone brightest in Sunday's win, as his first tally came on the power play and ended as the game-winner. Since first donning a Generals sweater on Feb. 9, Therrien has amassed 6-2—8 in six games.
2nd Star: None
Honorable Mention (alphabetical): None
Frontier Division Star of the Week: Dylan Rumpke, F, Yellowstone Quake
Rumpke played a key role in lifting Yellowstone to its fourth and fifth wins of the season last week – a pair of victories over the Cobras, who now sit just one point ahead of the Quake. He kicked off the weekend set with two assists in a 3-2 win as the Quake leapt out to a 3-0 advantage before holding off a late Butte challenge. Yellowstone's leading scorer then buried two goals and two more helpers on Saturday en route to a 6-4 win that saw him take his season totals to 21-18—39 in just 30 outings this year. Rumpke currently owns a four-game point streak, during which he has posted 3-6—9.
2nd Star: Alexander Rogers, G, Helena Bighorns
Honorable Mention (alphabetical): Lindros Beard, F, Great Falls Americans – Cody Dearing, F, Great Falls Americans – George Stilson, F, Gillette Wild – Justin Sullivan, D, Helena Bighorns – Zach VanCompernolle, D, Gillette Wild – Will Yates, F, Yellowstone Quake
Northeast Division Star of the Week: Seth McArdle, F, Binghamton Jr. Senators
A tripleheader on the road against the pesky Skylands Kings awaited the Senators last week, but they came out comfortably on top with three wins, thanks in large part to the efforts of McArdle, who recorded seven points in the set of contests. On Friday, he scored once and assisted on two other goals to lead Binghamton to a 7-3 win. Saturday featured more of the same as McArdle snagged the game-winner and another assist in a 6-1 victory. Finally, on Sunday, the Kirkwood, MO native put up another two assists to inflate his season total to 20-22—42 in 34 matchups. McArdle currently boasts 4-7—11 on his five-game point streak.
2nd Star: Manny Legace, G, Oswego Stampede
Honorable Mention (alphabetical): Trevor Christopher, D, Skylands Kings – Dylan Dinzik, D, Skylands Kings – Rich Hart, D, Oswego Stampede
South Division Star of the Week: Vito Carlo, D, Atlanta Capitals
The high-octane Capitals breezed through a three-game set against College Station over the weekend, thanks to a number of quality performances. Carlo was an offensive force from the blue line, with nine points in that span and a cumulative +10 rating. The defenseman played setup man through two games with three assists on Friday and two on Saturday. Sunday saw him chip in with a goal as well – his seventh of the season – as well as three more assists. His season total now sits at 7-36—43, good for fifth among Atlanta skaters.
2nd Star: Thomas Held, G, Texas Brahmas
Honorable Mention (alphabetical): Kevin Lake, G, Louisiana Drillers – Stuart Pearson, F, Texas Brahmas – Blake Siewertsen, F, Louisiana Drillers – Quinn Yeager, G, Atlanta Capitals
West Division Star of the Week: Oskar Stahl, F, Rochester Grizzlies
Stahl had featured on the scoresheet in four of his eight total 2018-19 games with the Grizzlies entering the week's action, but made an even more significant impact in two wins over Evansville on Friday and Saturday. The Swedish scorer potted his first hat-trick of the campaign to go with an assist on Friday, and posted 1-2—3 in Saturday's win to cap off a breakout week. He has now potted 6-10—16 in 21 contests this year.
2nd Star: Cam Fagerlee, F, North Iowa Bulls
Honorable Mention (alphabetical): Zack DeBoom, F, Granite City Lumberjacks – Joey Fodstad, F, Rochester Grizzlies – Tucker Kruse, F, Alexandria Blizzard – Matt Moran, F, Granite City Lumberjacks – Carter Wagner, F, North Iowa Bulls