North Iowa, Top Prospects forward McDermott makes NCAA commitment
March 7, 2019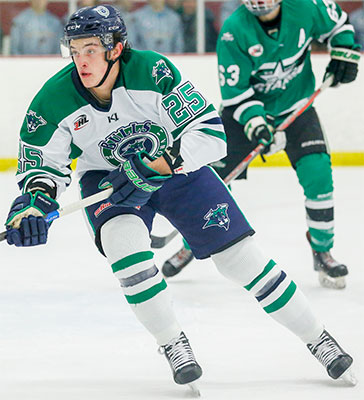 The North Iowa Bulls of the North American 3 Hockey League (NA3HL) are proud to announce that Top Prospects forward
Jimmy McDermott
has committed to St. Mary's University of Winona, Minnesota, an NCAA Division III program and member of the Minnesota Intercollegiate Athletic Conference (MIAC).
The Dubuque, Iowa native is one of the most experienced players on the Bulls' roster, as he finishes his third year in the NA3HL. McDermott is a veteran of more than 130 regular-season and postseason games in the NA3HL, including his first two seasons with the Wisconsin Whalers. He played those two seasons for his father, head coach Tom McDermott, before joining the Bulls roster for this season.
He's set to finish strong at the junior level, posting 46 points in 40 games for North Iowa heading into the final weekend of the regular season. McDermott has been on the radar of college scouts for some time, playing for the West Division team at this season's 2019 NA3HL Top Prospects event, and playing for an 18-and-under select team at that event a year ago.
He joins a St. Mary's team that reached the semifinal round of this year's MIAC tournament, falling to three-time defending conference champion Augsburg. Among his Cardinals teammates next year will be former North Iowa Bulls Jack and Tommy Stang.
More than 100 former North Iowa Bulls have gone on to play college hockey, including more than 70 who committed while on the Bulls' roster. 20 NA3HL players have made college commitments this year, with many more to come as the 2018-19 campaign winds down. He is the Bulls' first college commitment of the year, adding to their four North American Hockey League tenders for 2019-20.