Saturday Scores: Akatnov puts stamp on NA3HL record books
March 10, 2019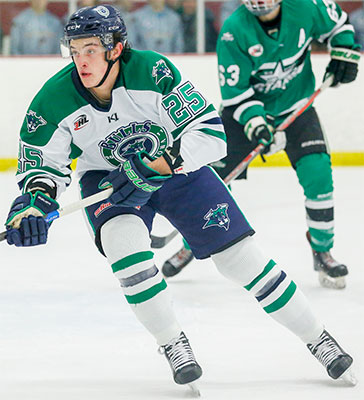 Yellowstone 5 @ Missoula 9 - One night removed from setting two separate NA3HL scoring records, Misha Akatnov was at it again on Saturday with four goals en route to a 9-4 win for the Bruins over the Quake. John Bannon starred as well for Missoula with a hat-trick, as Vadim Zubkov and Christian Ward tallied as well. Dylan Rumpke scored two for Yellowstone, with Nick Castro, Gabe Huntley and Will Yates rounding out the Quake scoring. Seth Daniel stopped 19 of 24 for the win between the Missoula pipes, outmatching Michael Allman's 27 saves for Yellowstone.
Peoria 2 @ North Iowa 8 - Connor Bennett and Jack Radley pushed the Mustangs ahead 2-0 early, but the Bulls responded in a big way with eight consecutive goals to take an 8-2 win on home ice. Cam Fagerlee scored twice, Hank Nigel, Jack Giddings, Jimmy McDermott, Nick Bowlin, Joey Petronack and Jack Kubitz fueled the comeback as Dysen Skinner stopped 19 of 21 for the Bulls. Luke Weberg faced 48 shots in the Peoria net, stopping 40 of those along the way.
Cape Cod 7 @ Long Beach 4 - Derek D'Arcy scored twice and Maxim Clouser stopped 18 of 22 pucks to guide the Islanders to a 7-4 win over the Sharks on the road. Joshua Dolessio, Kevin Flynn, Chad Holmes, Leevi Kervinen and Danial Bazarin fueled Cape Cod's victory with further goals, while Noah Carlock, Avery Matthews, Michael Walsh and John McCann struck for Long Beach. Tim Brillaud finished with 24 saves in the Sharks' cage.
College Station 0 @ Louisiana 4 - Kevin Lake and Grady Reis combined for the eight-save shutout as the Drillers took home a 4-0 win over the Spirit on Saturday. Riley Sloane, Grant Griffin, Alejandro Apud and Mitch Dolese paced the scoring as College Station's CJ Boothe finished with 42 saves in the loss.
Texas 2 @ Mid Cities 1 - Andrue Trelstad bagged the game-winning goal and Thomas Held stopped 25 shots as the Brahmas slipped pasted the Stars 2-1. Findlay Wood also scored for Texas, while Matthew Taylor tallied for Mid Cities. Francisco Clark-Silva turned aside 39 shots in the Stars' net.
Skylands 4 @ Oswego 1 - Kavan Johnson stole the show with 34 saves as the Kings came back from an early deficit to win 4-1 over the Stampede on Saturday. Josh Baker, James Clarke, Dylan Saccone and Zach Burkhart lit the lamp for Skylands, outpacing Ryan Gunther's early goal for Oswego. Ben White stopped 36 shots for the Stampede.
Niagara Falls 0 @ Binghamton 24 - Every player on the Senators' roster registered a point as Binghamton recorded a massive 24-0 win over the Powerhawks on Saturday. Greg Simmons nabbed a hat-trick; Kieran Horton, Andrew Palmiter, Seth McArdle, Mike Padgeon, Markus Cook, Devin Hamm and Adam Morgan struck for two goals apiece; Liam Murphy, Wyatte Roberts, Thomas Liebold, Dinmukhamed Dzhangarashev, Eric Melso, Rory Gresham and Will Darling each added individual markers. Jeff Zero stopped nine shots for the shutout win, while Niagara Falls netminders Noah Spiesz and Jonathan Sebastiano combined for 66 saves.
Coulee Region 7 @ Rochester 1 - The Chill tallied five unanswered goals in the final 40 minutes to break open a one-goal game and take a 7-1 win over the Grizzlies on the road. Sam Dabrowski led with two goals, as Toon De Schpper, Brandon Ratzloff, Marco Escobar, Donny Schultz and Thomas Magnavite rounded out the Chill scoring. Joey Fodstad netted the lone Rochester goal in front of a shared 41 saves from Nick Bucklin and Liam Kelly in the Grizzlies' cage. Devin Naidow took the win with 34 saves on 35 shots.
St. Louis 9 @ Wausau 1 - A hat-trick from Ivan Galaguzov and two goals from Sean Hofstetter set the pace for the Blues on Saturday night, as they romped past the RiverWolves 9-1 on the road. Matthew Monreal, Zach Lodes, Jack Moore and Tom Yurisich added goals for St. Louis as Mitchel Idalski marked the only Wausau goal. Mikael Foucher posted 44 saves for the win, while Terran Mohr stopped 68 for Wausau.
Bozeman 2 @ Gillette 3 - Jack Morey was the third-period hero with a late goal to push the Wild to a slim 3-2 win over the Icedogs at home. Tristan Avoletta and Coleman Varty scored in the first 40 for Gillette, while Gage Blatter and Luke McKay did the same for Bozeman. Aaron LaChance and Cody Grogan put up a combined 28 saves in the Gillette win, while Sean O'Connor turned aside 37 for the Icedogs.
Butte 0 @ Great Falls 14 - Garrett Peters tallied four goals, Viktor Wennberg and Cam McIntosh combined for a seven-save shutout and the Americans cruised past the Cobras 14-0 on Saturday. Justin Ohnstad and Payton McSharry each bagged a pair of goals, while Brody Boyce, Levi Mese, Nick Ramstad, Jens Juliussen, Braxton Lorenz and George Nuutinen lit the lamp once apiece in the Great Falls win. Butte netminders Casey Mattfeldt and Cameron Cornish stonewalled a total of 68 shots during their busy night.