Underdog Mustangs take Game 1 of Central Semi's
March 15, 2019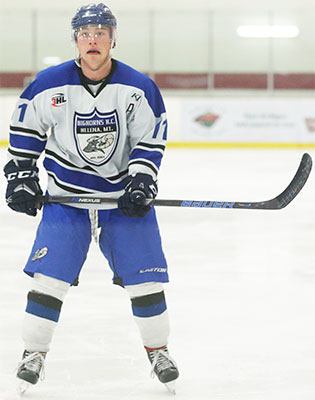 Central Division Semi-Finals, Game 1: Coulee Region 2 @ Peoria 4 (Peoria leads best of three series, 1-0) - Austin Keil scored twice in the third period as the Mustangs came back to post a statement win with a 4-2 upset of the Chill in Game 1 of the Central Division Semifinals. Jared Wisely and Tristan Trudel also scored for Peoria, outmatching early Coulee Region goals by Flavien Fondadouze and Keaton Caplis. Jaden Gardner turned aside 38 shots to take the win, while Devin Naidow stopped 16 of 20 for the Chill.
Central Division Semi-Finals, Game 1: Milwaukee 1 @ St. Louis 3 (St. Louis leads best of three series, 1-0) - Mikael Foucher stopped 33 pucks as the Blues put on a show in the third period, notching three unanswered goals in the final 20 to record a 3-1 comeback win over the Power in Game 1 of their Central Division Semifinal series. Ivan Galaguzov netted twice, sandwiching Tom Yurisich's marker in the final frame to fuel St. Louis' win. Ethan Dabbs posted Milwaukee's goal in the second period, as Aaron Dickstein stopped 34 of 37 in the loss.
Frontier Division Semi-Finals, Game 1: Missoula 2 @ Helena 7 (Helena leads best of three series, 1-0) - The Bighorns rattled off four unanswered goals in the third period to stretch their 3-2 advantage and ultimately snag a 7-2 win over the Bruins to jump ahead one game to none in the Frontier Division Semifinals. Elliot Plourde set the pace with a hat-trick and two helpers, with Ty Niskanen, Nicholas Noel, Ricards Groskops and Ian Zaleski lighting the lamp as well for Helena in front of a stellar 50 saves from Alexander Rogers between the pipes. Misha Akatnov and Trevor Prince put Missoula on the board as Evan Williams stopped 22 of 29 for the visitors.