Friday Finals: Jr. Blues advance with sweep
March 16, 2019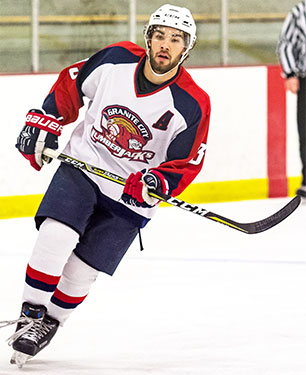 Central Division Semi-Finals, Game 2: Milwaukee 2 @ St. Louis 4 (St. Louis wins series, 2-0) - Mikael Foucher stopped 44 of 46 pucks to backstop the Blues to a 4-2 win over the Power and seal their place in the Central Division Finals as the first team to advance in the 2019 Fraser Cup Playoffs. Jacob Wiethaupt, Zach Lodes, Dante Jones and Matthew Monreal provided the offense for St. Louis, outmatching goals by Logan Geisness and Jake Berry for Milwaukee, who received 35 saves from Aaron Dickstein.
West Division Semi-Finals, Game 1 - Rochester 2 @ North Iowa 4 (North Iowa leads series, 1-0) - Down 2-1 entering the final six minutes of play, Carter Wagner scored twice and Jarod Blackowiak bagged another to push the Bulls to a 4-2 comeback win over the Grizzlies to kick off their Fraser Cup playoff campaign. Nick Bowlin potted the other North Iowa strike, while Matthew DeRosa and Joey Fodstad put Rochester on the board. Dysen Skinner's 25 saves earned the win, while Nick Bucklin faced down 23 pucks at the Rochester end.
West Division Semi-Finals, Game 1 - Alexandria 1 @ Granite City 6 (Granite City leads series, 1-0) - Grant Troumbly's hat-trick highlighted a stellar evening for the Lumberjacks, who topped the Blizzard 6-1 to move to within a win of the West Division Finals. Trevor Dummer, Jack Flattum and Hunter Schwehr also fueled the Granite City onslaught, while Dylan Giorgio potted Alexandria's only goal. David Mulligan was a rock between the Lumberjacks' pipes with 25 saves, outmatching Kyle Hayden of Alexandria, who finished with 19 of his own.
Frontier Division Semi-Finals, Game 2 - Helena 1 @ Missoula 2 (Series tied, 1-1) - A tight-checking game went down to the wire in Missoula, where Bill Lucas notched the game-winner late in the third to help the Bruins win 2-1 over the Bighorns and survive another day in Game 2 of the Frontier Division Semi-Finals, setting up a winner-take-all Game 3 on Saturday. John Bannon scored as well for Missoula, who featured a titanic, 48-save performance in goal by Evan Williams for the crucial win. At the other end, Carver Thompson turned aside 29 of 31 for Helena.
Frontier Division Semi-Finals, Game 1 - Bozeman 2 @ Great Falls 3 (OT) (Great Falls leads series, 1-0) - The last game of the night boasted plenty of drama, including two goals in the final 90 seconds of regulation time, then another late winner in overtime as the Americans topped the Icedogs 3-2 in Game 1. Luke McKay put Bozeman ahead in the first period, but Brody Boyce leveled the affair midway through the third for Great Falls. Garrett Peters then put the Americans ahead with just 1:21 to go, seemingly earning them the win, before Luke Hartge mustered up a response for Bozeman with 13 seconds to play. Jack Olson then potted the overtime winner for Great Falls with 20 seconds left in the fourth period. Both teams' goaltenders were outstanding in the contest, as Drew Scites stopped 37 pucks for the Great Falls win and AJ Ruskowski turned aside 49 in the tough-luck loss.
Coastal Division Semi-Finals, Game 1 - New England 4 @ Northeast 5 (OT) (Northeast leads series, 1-0) - James Wilson tallied for the Stars with 19 seconds to play in the contest to force overtime, but Marc Faia finished the Generals' win just 1:12 into the extra frame to put Northeast on top 5-4 and ahead in their playoff series 1-0. Robbie Flansburg, Cole Therrien, Tami Merilainen and Josh Petrucci nabbed Northeast goals in regulation time, while Connor Barter, Michael Cooprider and Henry Beguelin joined Wilson on the Stars' scoresheet. John Driscoll starred in net for Northeast with 21 saves, taking the win despite 36 saves by Matthew Marini in the Stars' cage.
Coastal Division Semi-Finals, Game 1 - Long Beach 0 @ L/A 13 (L/A leads series, 1-0) - A banner, four-goal evening for Sergei Anisimov, another two from Joshua Sanchez and a 14-save shutout by Andrew Ghimpeteanu fueled an L/A romp past Long Beach, 13-0, in their opening playoff tilt. Valeri Rykov, Joe Bisson, Hans Watson, Cole Ouellette, Alex Rivet, Colby Audette and Zack Mullen rounded out the Nordiques stout attack, firing a total of 69 shots on Ryan Cortez and Darren Nathan in the Sharks' cage. The two Long Beach netminders finished with a shared 56 saves.
South Division Semi-Finals, Game 1 - Mid Cities 1 @ Texas 4 (Texas leads series, 4-1) - The Brahmas used a three-goal burst in the third period to snap a 1-1 deadlock and breeze by the Stars 4-1 to take a 1-0 advantage in their playoff matchup. Kellen Ireland, Andrue Trelstad, Jack Cooper and Stuart Pearson lit the lamp for Texas, eclipsing Josh Linn's lone Mid Cities marker. Thomas Held held strong for the win with 23 saves on 24 shots, while Noah Kinsinger faced a busier night in the Stars' net with 41 saves on 44 shots.
South Division Semi-Finals, Game 1 - Atlanta 5 @ Louisiana 4 (Atlanta leads series, 1-0) - The Drillers came on late, tallying twice in the last 13 minutes to cut a three-goal deficit to one, but the Capitals' held strong for a 5-4 win in game one of their South Division semi-final scrap. Andrei Rusakov bagged the game winner early in the third, an insurance marker at the time that proved to be crucial. Jason Ladzinksi scored twice, Keith Gustin and Aryton Cornic each netted once and Quinn Yeager turned aside 27 pucks to carry the Caps to their upset win, while Blake Siewertsen led Louisiana with two goals, alongside individual strikes from Zach Smith and Riley Sloane. Kevin Lake faced down 31 shots in the loss.
Northeast Division Semi-Finals, Game 1 - Skylands 2 @ Oswego 4 (Oswego leads series, 1-0) - Ryan Gunther was the star of the Stampede show on Friday, opening the scoring and then bagging the game-winner as his team toppled the Kings 4-2 to move to within a win of advancing to the Northeast Division Finals. Tommy Kilway also scored for Oswego in front of a 39-save effort by Manny Legace for the win. Kavan Johnson was stellar for Skylands as well, stopping 51 shots as Jake Cicalese and Dylan Saccone lit the lamp behind Legace.