Saturday Scores: Bighorns advance with comeback win
March 17, 2019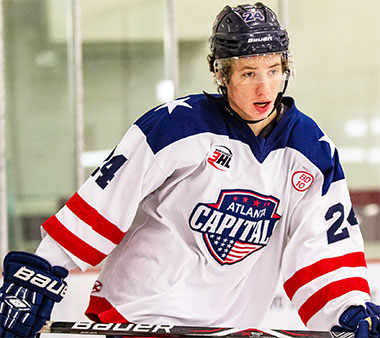 Frontier Division Semi-Finals, Game 3 - Missoula 5 @ Helena 6 (Helena wins series, 2-1) - Down 4-2 entering the final frame, the Bighorns put together a remarkable comeback period that saw them outscore the Bruins 4-1 to ultimately take a 6-5 win in a hard-fought Game 3 and advance to the Frontier Division Finals. Darren Donovan shone brightest with a hat-trick on the day, joining Luc Cross, Kaden Lindberg and Ian Zaleski on the Bighorns' side of the scoresheet. At the other end, Misha Akatnov stood out with a pair of strikes for Missoula, with Austin Leadbetter, Vadim Zubkov and Wyatt Ploot helping to build up their early advantage. A combined 32 saves from Alexander Rogers and Carver Thompson backstopped Helena's victory, while Josh Sample and Evan Williams put up a shared 42 for Missoula in the loss.
Coastal Division Semi-Finals, Game 2 - L/A 9 @ Long Beach 1 (L/A wins series, 2-0) - Colby Audette potted a hat-trick, Joe Bisson struck twice and Daniel Miller made 17 saves as the Nordiques swept the Sharks in style, winning 9-1 in Game 2. Also scoring for L/A were Alex Rivet, Matthew McDermitt, Cole Ouellette and Hans Watson, while Noah Carlock was the lone name on the Long Beach side of the scoresheet. Ryan Cortez put forth an admirable effort in the Sharks' cage with 48 saves on 57 shots.
Coastal Division Semi-Finals, Game 2 - Northeast 6 @ New England 2 (Northeast wins series, 2-0) - The Generals rode two-goal efforts from Kolye Bankauskas and Tyler Rudek to a 6-2 romp past the Stars, completing the series sweep and earning a spot in the Coastal Division Finals. Thad Marcola and Tami Merilainen lit the lamp as well, while Jeb Barrett stopped 25 pucks for the win. Henry Beguelin and Derek Lovejoy netted for New England in front of a 30-save effort from Matthew Marini.
South Division Semi-Finals, Game 2 - Louisiana 1 @ Atlanta 4 (Atlanta wins series, 2-0) - Viacheslav Nilov put the Drillers ahead just two minutes in, but a four-goal resurgence led by Cole Thomas Johnson's hat-trick pushed the Capitals to a 4-1 win in Game 2 and a series sweep as they upset Louisiana to advance to the South Division Finals. Ayrton Cornic bagged the remaining Atlanta goal, as Quinn Yeager stonewalled 28 shots for the win. Kevin Lake finished with 32 saves in the Drillers' net.
South Division Semi-Finals, Game 2 - Texas 3 @ Mid Cities 2 (OT) (Texas wins series, 2-0) - More drama took hold in the South on Saturday, as the Brahmas rode Findlay Wood's overtime heroics to a 3-2 win and series sweep over Mid Cities to move on to the division finals against Atlanta. After Jacob Kalandyk put Texas ahead early, Josh Linn did his best to push the Stars to victory with two goals in the second period. But Ian Erdman tied the affair once more late in the frame, setting up a tense, scoreless third period before Wood's winner just 24 seconds into overtime. Thomas Held again starred for Texas, stopping 24 of 26, while Noah Kinsinger of Mid Cities also put forth another stout performance with 41 saves on the night.
Central Division Semi-Finals, Game 2 - Peoria 1 @ Coulee Region 2 (Series tied, 1-1) - The Chill fell behind first in this contest after dropping Game 1, but rebounded in a big way with two goals in two minutes to match, then eclipse, the initial Mustangs advantage to take a 2-1 win and force a Game 3 on Sunday. After two 0-0 frames, Jaycob Bland lifted Peoria to a 1-0 lead early in the third period before Keaton Caplis leveled the affair for Coulee Region. Thomas Magnavite then turned in the game-winner just under two minutes later as Devin Naidow shut the door on 18 of 19 shots for the win. Meanwhile, Jaden Gardner was a rock for the Mustangs with 38 stops.
Northeast Division Semi-Finals, Game 2 - Skylands 4 @ Oswego 0 (Series tied, 1-1) - Kavan Johnson came up huge for the Kings, stopping all 36 shots he faced as he and his teammates shut out the Stampede 4-0 to force Game 3 in their playoff series. James Clarke (2), Dylan Saccone and Steven Ford provided the offense in the tilt, forcing Oswego's Ben White into 39 saves on 43 shots.
Northeast Division Semi-Finals, Game 1 - Niagara Falls 1 @ Binghamton 10 (Binghamton leads series, 1-0) - The Senators opened their playoff campaign with a resounding 10-1 win over the Powerhawks, thanks to a Mike Padgeon hat-trick and two goals apiece from Dinmukhamed Dzhangarashev, Thomas Liebold and Greg Simmons. Rory Gresham also potted a goal for Binghamton, while Dominic Cappella nabbed the lone goal for Niagara Falls. But perhaps the most eye-catching performance of the night came from Powerhawks netminder Noah Spiesz -- despite the scoreline, Spiesz posted a .905 save percentage with a whopping 95 saves on 105 recorded shots. At the other end, Thomas Sullivan took the win for the Senators with four saves on five total shots.
West Division Semi-Finals, Game 2 - North Iowa 3 @ Rochester 4 (Series tied, 1-1) - Rochester rebounded from a tough Game 1 loss to North Iowa with a run of three unanswered goals in under 20 minutes to top the Bulls 4-3 in Game 2. Nic Leisen, Oskar Stahl, Hunter Hall and Matthew DeRosa lit the lamp behind North Iowa netminder Dysen Skinner, who stopped a stout 46 shots. Meanwhile, Jarod Blackowiak, Matt Dahlseide and Nick Johnson scored for the Bulls, forcing Nick Bucklin into 37 saves in the Grizzlies' cage.
West Division Semi-Finals, Game 2 - Granite City 3 @ Alexandria 4 (OT) (Series tied, 1-1) - With their backs against the wall, the Blizzard came up with a huge home showing against the top-seeded Lumberjacks, winning 4-3 in overtime as Dylan Mattson scored once in regulation and again in the extra frame to set up a winner-take-all Game 3. Brett Meister and Brandon Connett also scored for the Blizzard, while Daymin Dodge, Grant Troumbly and Bailey Sommers netted for Granite City. Ville Hyttinen earned the 32-save win, outmatching David Mulligan's 26 stops for the Lumberjacks.
Frontier Division Semi-Finals, Game 2 - Great Falls 3 @ Bozeman 5 (Series tied, 1-1) - Five different skaters lit the lamp and AJ Ruskowski stopped a stunning 49 pucks as the Icedogs forced a Game 3 with a 5-3 victory over the Americans on Saturday. Gage Blatter, Duncan McGarrah, Adam Franklin, Dominic Canic and Rhys Phelps fueled the Bozeman win, outpacing Great Falls goals from George Nuutinen, Cody Dearing and Payton McSharry. Viktor Wennberg and Drew Scites posted 21 total saves for the Americans.