Sunday Wrap-Up: Blizzard upset Lumberjacks to advance
March 18, 2019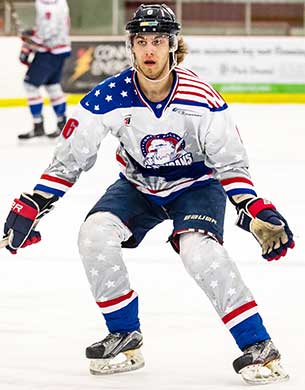 West Division Semi-Finals, Game 3 - Alexandria 4 @ Granite City 3 (Alexandria wins series, 2-1) - A two-goal effort from Dylan Giorgio and 37 saves by Ville Hyttinen guided the Blizzard to a remarkable 4-3 upset win over top-seeded Granite City on Sunday. Brett Meister and Val Popowski also netted for Alexandria, while Matt Moran, Bailey Sommers and Zack DeBoom lit the lamp for the Lumberjacks. David Mulligan finished with 18 saves in the loss.
Frontier Division Semi-Finals, Game 3 - Bozeman 2 @ Great Falls 6 (Great Falls wins series, 2-1) - Payton McSharry picked a perfect place for a hat-trick, striking thrice to push the Americans to a 6-2 win over the Icedogs. Luke Richesin, Cody Dearing and Brody Boyce also found twine for Great Falls, shelling AJ Ruskowski with 50 shots (he saved 45). Daniel Davis and Jaxson Dodds put up the only Bozeman goals, the only pair to beat Drew Scites in 31 shots in the contest.
Central Division Semi-Finals, Game 3 - Peoria 1 @ Coulee Region 3 (Coulee Region wins series, 3-1) - The Chill rode a pair of Thomas Magnavite markers to complete their comeback in both the game and series, knocking off the Mustangs 3-1 and advancing to the Central Division Finals against an awaiting St. Louis team. Sam Dabrowski also scored for Coulee Region, while Austin Keil posted the lone Peoria goal. Devin Naidow's 31 saves earned the win, outpacing 27 saves by Jaden Gardner.
Northeast Division Semi-Finals, Game 3 - Oswego 3 @ Skylands 0 (Oswego wins series, 2-1) - Manny Legace recorded a 27-save shutout as the Stampede breezed past the Kings on the road in Game 3, taking a 3-0 win to head onward in the Fraser Cup playoffs. Wade Moak, Tommy Kilway and Adam Louise provided the offense, as Kavan Johnson turned aside 29 of 32 in the Skylands loss.
Central Division Semi-Finals, Game 3 - Rochester 1 @ North Iowa 4 - (North Iowa wins series, 2-1) - Four Bulls goals in the final 40 minutes proved too much for Rochester to come back from, as North Iowa took down the Grizzlies 4-1 to stake their claim to a West Division Finals spot. Jimmy McDermott's two goals set the pace, while Brendan Studioso and Nick Johnson added their own strikes for North Iowa. Meanwhile, Peyton Hart nabbed the lone Grizzlies goal in front of 26 saves by Nick Bucklin. Dysen Skinner posted 31 saves for the Bulls.
Northeast Division Semi-Finals, Game 2 - Niagara Falls 0 @ Binghamton 22 (Binghamton wins series, 2-0) - Three different Senators notched hat-tricks (or more) as they led their team to a 22-0 win over the Powerhawks and a place in the Northeast Division Finals. Thomas Liebold (5), Adam Morgan (3), Dinmukhamed Dzhangarashev (3), Eric Melso (2), Liam Murphy (2), KIeran Horton (2), Andrew Palmiter, WIll Darling, Mike Padgeon, Greg Simmons and Caden Dearborn. Casey Boone and Jeff Zero combined for a 14-save shutout, while Josh Mitchell turned aside a remarkable 79 shots in the loss.