Friday Finals: Nordiques claim first Fraser Cup spot with sweep
March 23, 2019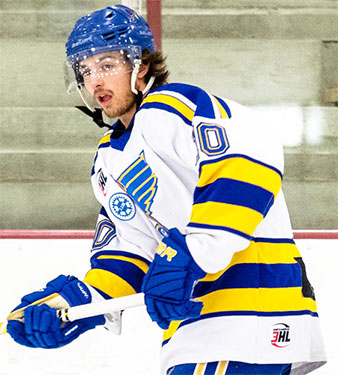 Coastal Division Finals, Game 2: L/A 7 @ Northeast 3 (L/A wins series, 2-0) - Andrew Ghimpeteanu turned aside 36 of 39, Alex Rivet posted a hat-trick and the Nordiques stayed perfect in the playoffs with a 7-3 blitz past the Generals to become the first team to earn a spot in the six-team Fraser Cup Championship. Andrew McCormick, Sergei Anisimov, Valeri Rykov and Sam Frechette rounded out the scoring for the new Coastal Division Champions, while Josh Petrucci, Tyler Rudek and Jeffrey Sidoit fueled a valiant Northeast effort. Jeb Barrett stopped 32 pucks in the Generals' loss.
Central Division Finals, Game 1: St. Louis 6 @ Coulee Region 2 (St. Louis leads series, 1-0) - Despite facing a stiff road test in the Central Division Finals, the Jr. Blues put forth a perfect start with a 6-2 win over the Chill in Game 1. Matthew Monreal and Ivan Galaguzov scored two goals apiece, Jacob Wiethaupt and Dominic Lesnock each netted once and Mikael Foucher made 33 saves to push the visiting Blues to victory. Meanwhile, Marco Escobar and Connor Losen put up the lone Coulee Region goals as Devin Naidow stopped 29 of 34 in net.
Frontier Division Finals, Game 2: Helena 0 @ Great Falls 4 (Series tied, 1-1) - After dropping Game 1 on the road on Thursday, the Americans responded with a resounding 4-0 shutout win over the Bighorns that saw Drew Scites face down all 36 shots against for the goose egg. Jens Juliussen bagged two goals on the night, with Nick Torres and Hendrik Robel joining him on the scoresheet. Carver Thompson and Alexander Rogers combined for 32 saves in the Helena net. Game 3 is set for Saturday night in Helena.
Northeast Division Finals, Game 1: Oswego 3 @ Binghamton 12 (Binghamton leads series, 1-0) - The Senators' hot offense kept rolling in Game 1 of the Northeast Division Finals as four skaters logged multiple goals en route to a 12-3 win over the Stampede. Mike Padgeon led with a hat-trick, Zach Bell, Dinmukhamed Dzhangarashev and Liam Murphy posted two tallies apiece and Kieran Horton, Greg Simmons and Eric Melso each lit the lamp once in the win. Tommy Kilway starred for Oswego with two goals on the night, joining Bailey Doust's individual marker on the Stampede scoreseheet. Jeff Zero took the win with 27 saves for Binghamton, while Ben White suffered a tough loss in the Oswego crease despite a stout 64 saves.
South Division Finals, Game 1: Atlanta 1 @ Texas 5 (Texas leads series, 1-0) - Five different skaters got in on the action as the Brahmas roared to a 5-1 win over the Capitals, moving one win closer to a Fraser Cup Championship berth. Michael Thomas Jr., Jacob Kalandyk, Jack Cooper, Stuart Pearson and Findlay Wood provided the offense for Texas, while Cole Thomas Johnson nabbed the Atlanta goal. Thomas Held earned the win between the Brahmas pipes with 15 saves, while Quinn Yeager stopped 26 for the visitors.
West Division Finals, Game 1: Alexandria 1 @ North Iowa 3 (North Iowa leads series, 1-0) - The first tilt of what promises to be a tight West Division Finals went the way of the Bulls on Friday, 3-1 over the visiting Blizzard thanks to a strong 31 saves by Dysen Skinner. Cam Fagerlee, Brendan Studioso and Matt Dahlseide lit the lamp for North Iowa, eclipsing Sam Prisbe's standalone strike for Alexandria, who received 28 saves from Ville Hyttinen.