Saturday Scores: Five more join Fraser Cup field on Saturday
March 24, 2019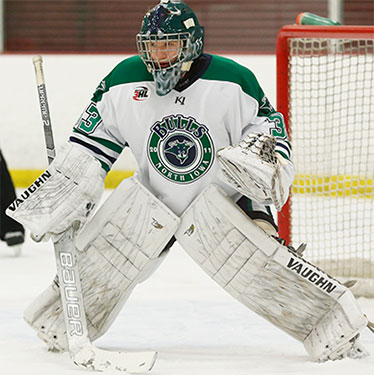 Central Division Finals, Game 2: St. Louis 3 @ Coulee Region 1 (St. Louis wins series, 2-0) - Brandon Ratzloff put the Chill ahead early, but three St. Louis strikes in under four minutes in the second period saw the Blues complete the Central Division Finals sweep with a 3-1 win over Coulee Region on Saturday. Dante Jones, Ivan Galaguzov and Sean Hofstetter fueled the comeback as Jack Regan made 47 saves for the victory. Michael Janke turned in a 29-save effort for Coulee Region.
Frontier Division Finals, Game 3: Great Falls 1 @ Helena 5 (Helena wins series, 2-1) - Elliot Plourde starred with four points (1g, 3a) to pace a crucial 5-1 win for the Bighorns over the Americans to clinch the Frontier Division and earn the final spot in the Fraser Cup Championship. Ian Zaleski, Hayden Seitz, Darren Donovan and Nicholas Noel rounded out the Helena attack, with Alexander Rogers backstopping to the tune of 31 saves on the night. Jens Juliussen put up Great Falls' only goal in front of 37 saves by Drew Scites.
Northeast Division Finals, Game 2: Oswego 1 @ Binghamton 6 (Binghamton wins series, 2-0) - Binghamton roared past the Stampede 6-1 at home on Saturday to clinch the Northeast Division playoff title and punch their ticket to Chicago as well. Thomas Liebold, Liam Murphy, Eric Melso, Dinmukhamed Dzhangarashev, Rory Gresham and Will Darling kept the stout Senators' offense rolling as Thomas Sullivan saved 30 pucks in the win. Manny Legace turned in a strong showing for Oswego as well, stopping 78 between the pipes as Dimitri Christou potted the lone goal.
South Division Finals, Game 2: Atlanta 0 @ Texas 5 (Texas wins series, 2-0) - Bryce Runyan turned aside 26 of 26 shots to backstop the Brahmas to a 5-0 shutout of the Capitals and help Texas stay undefeated as they head to Chicago for the Fraser Cup Championship. Seth Cushing, Matej Palfy, Jacob Kalandyk, Jack Cooper and Findlay Wood lit the lamp, forcing Atlanta's Quinn Yeager into 30 saves.
West Division Finals, Game 2: North Iowa 5 @ Alexandria 1(North Iowa wins series, 2-0) - The Bulls jumped out to a 4-0 lead through 40 minutes and held on late to knock off the Blizzard 5-1 and advance to the Fraser Cup Championship. Brendan Studioso, Carter Wagner, Nick Johnson, Nick Bowlin and Jack Giddings each nabbed goals for North Iowa, outmatching Jack Powell's lone Alexandria marker. Ville Hyttinen and Kyle Hayden combined for 33 saves in the Blizzard net.