Brahmas and Nordiques roll to wins on Day 1 of Fraser Cup
March 28, 2019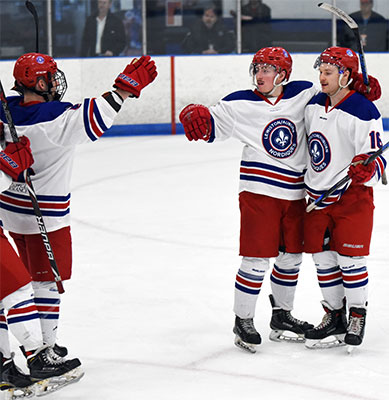 Fraser Cup Round-Robin, Game 1: L/A Nordiques 4 vs. Helena Bighorns 1
– It was a dominant performance from the #1-seeded Nordiques as they poured on 52 shots on goal in a 4-1 win on Day 1 of the 2019 Fraser Cup. The Nordiques got off to a fast start as they scored twice in the opening period. Colby Audette struck first as he fired a shot over the shoulder of Helena goalie Alexander Rogers with an assist to Josh Sanchez. Midway through the period, Nordiques forward Valeri Rykov got a pass from Andrew McCormick and danced through the defense to deke out Rogers for a 2-0 lead. Less than a minute into the 2nd period, the Nordiques went up 3-0 thanks to an unassisted goal from Josh Malone. The Bighorns cut into the lead as Darren Donovan scored on the power play with helpers from Darren Donovan and Justin Sullivan. However, midway through the 3rd period, it was Nordiques defenseman and NAHL tender Cole Oullette fired home a shot from the high slot on the power play with an assist to JP Chauvin to make the final 4-1. Nordiques goalie Andrew Ghimpeteanu was very solid in the win, stopping 25 of 26 shots, while Rogers made 48 saves in the loss.
Boxscore
Fraser Cup Round-Robin, Game 2: Texas Brahmas 6 vs. Binghamton Junior Senators 1
– The Texas Brahmas exploded for three goals in the 2nd period and three more goals in the 3rd period and got a three-point night from forward Jacob Kalandyk as they defeated the Binghamton Junior Senators 6-1 in both team's opening game of the Fraser Cup. It was all Binghamton in the opening period as the home side took a 1-0 lead thanks to a power play goal from Eric Melso. However, Texas goalie Bryce Runyan kept his team in the game with 11 saves in the opening period to keep it a one-goal game. In the 2nd period, the Brahmas seized control thanks to a power play goal from Kalandyk in the early stages of the period and then the go-ahead goal from Parker Mara just four minutes later. The game may have been decided with just :01 second remaining in the period as Andrue Trelstad beat the clock with a power play goal that gave Texas a 3-1 lead. Texas would score three more goals in the 3rd period to put the game out of reach and earn the win as Kalandyk scored his second goal of the game as the puck sneaked behind Binghamton netminder Jeff Zero. Jack Cooper scored off a turnover to make it 5-1 and Seth Cushing added a late goal to make it 6-1. Runyan has very solid in goal in the win for the Brahmas, stopping 27 of 28 shots, while Zero made 37 saves in the loss.
Boxscore
The 2019 NA3HL Fraser Cup Championship continues with Day 2 on Thursday, March 28 with two more round-robin games.
2019 Fraser Cup Championship Schedule
Wednesday, March 27: L/A Nordiques 4 vs. Helena Bighorns 1 | Binghamton Junior Senators 1 vs. Texas Brahmas 6
Thursday, March 28: L/A Nordiques vs. North Iowa Bulls, 4pm | Binghamton Junior Senators vs. St. Louis Jr. Blues, 7pm
Friday, March 29: Helena Bighorns vs. North Iowa Bulls, 4pm | Texas Brahmas vs. St. Louis Jr. Blues, 7pm
Saturday, March 30: Pool A 1st place vs. Pool B 2nd place, 3pm | Pool B 1st place vs. Pool A 2nd place, 6pm
Sunday, March 31: Championship Game, 1pm
Games can be seen live and in HD on
HockeyTV