Milwaukee duo of Ben and Caleb Beversdorf make college commitments
May 1, 2019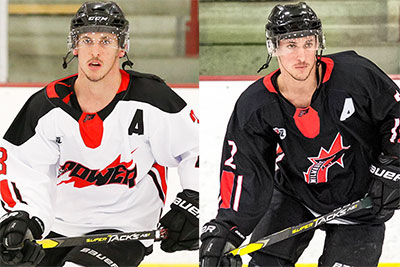 The Milwaukee Power of the NA3HL are pleased to announce that brothers Ben and Caleb Beversdorf have both committed to play ACHA Division I hockey for West Virginia University. They both played two seasons for three teams in the NA3HL, making the post season both times.
"I'm looking forward to having them here in Morgantown. Having coached high school hockey in Wisconsin, I know the quality of player that the state can produce, and it's fantastic that they had the opportunity to continue to grow as people and hockey players close to home with the Power. We're more than excited to have Ben and Caleb join Ivan (Bilyy) at WVU, where we expect all three to be key contributors to our program," said Shane Buckley, Head Coach of WVU's ACHA D1 team.
The Hartland, Wisconsin natives were a big factor all season long on the scoresheet, power play, and penalty kill units. Ben had 21 goals, and 22 assists for 43 points for the Power and had Milwaukee's first goal in team history. Caleb had 10 goals, and 23 assists for 33 points for Milwaukee.
"It's going to be great to have players that are fast and can put the puck in the net. Their 2 way capability is going to be a huge asset at West Virginia," said Josh Dudley, WVU Assistant Coach.
"West Virginia provides an opportunity to get a great education from a world class university that has the specific area of study we both are interested in, and still have the chance to continue our hockey careers at the college level," said Caleb.
"We're Looking forward to working with Coach Buckley to get WVU D1 hockey back to the national tournament and also be able to play with our Milwaukee Power teammate Ivan Bilyy while doing so," said Ben.
The Power wish Ben and Caleb the best of luck as they move on to the next phase of their lives. Thank you for being apart of our inaugural season and bringing the hard work ethic and intensity day in and day out.