Team NA3HL to play for 18U NAHL Top Prospects Championship
May 12, 2019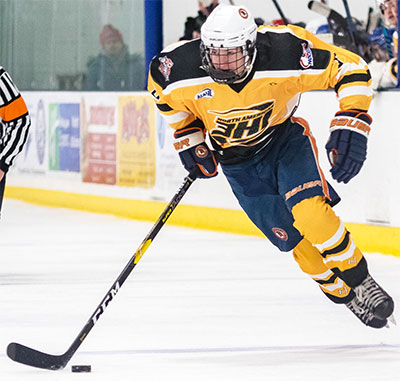 The team from the NA3HL that consists of players that are 18 or under that played in the league this past season has finished 1st in pool play at the NAHL 18U Top Prospects Tournament and advanced to Sunday's Championship Game.
The club has gotten it done with offense, scoring 13 goals in the three wins, which ranks 2nd in the event. Northeast Generals forward Koyle Bankauskas is one of two players on the team with four points through the first three games. The 18-year-old native of Coventry, Rhode Island, also played in the 2019 NA3HL Top Prospects Tournament. This past season, he recorded 62 points in 47 NA3HL games for the Generals. Yellowstone Quake forward Luke Hartge also has four points through two games played. Like Bankauskas, Hartge played in the 2019 NA3HL Top Prospects Tournament. He recorded 43 points this past season with the Quake.
In goal, Mikael Foucher (St. Louis Jr. Blues), who was the NA3HL's Goaltender and Rookie of the Year, has been solid between the pipes, allowing just a single goal through the first three games. Gunnar Snyder (Coulee Region Chill) has also played well for the NA3HL in goal.
In Game 1 on Friday, the NA3HL beat Team East, 5-4 in a shootout. Matthew DeRosa (Rochester Grizzlies) and Connor Bennett (Peoria Mustangs) each had two goals and Alex Rivet (L/A Nordiques) scored the shootout winner to get the NA3HL off to a 1-0 start.
In Game 2 on Saturday, it was a Ladder of Development battle with the NAPHL East Team. Again, Team NA3HL racked up five goals for the second straight game, which included goals from Bankauskas, Hartge, Rivet, Hank Nagel (North Iowa Bulls), and Markus Cook (Binghamton Junior Senators). Milwaukee Power defenseman Ryan Payne had three assists in the win.
In the Game 3 nightcap on Saturday, the NA3HL got a great outing from both Foucher and Snyder in goal to secure a 3-1 win over the Michigan Selects. Bankauskas, Rivet, and Ryan Muckensturm (Mid Cities Jr. Stars) scored for the NA3HL in the win, which secured them a spot in Sunday's Championship Game where they will take on the T1EHL West team.