August 23, 2019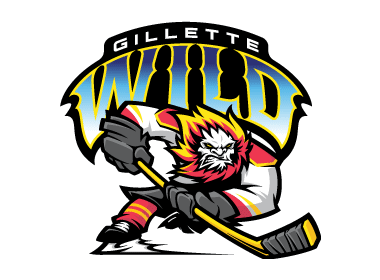 The 3View series will feature an in-depth look into all NA3HL teams in preparation for the 2019-20 season, with two teams being highlighted daily, leading all the way up until the start of the regular season. 3View goes in-depth into each NA3HL team and will include interviews with all the head coaches in the NA3HL, as they provide fans with their expectations and outlook for the 2019-20 season, including taking a look at their potential roster and their strengths as a team for the upcoming season. It will also take a look back on the 2018-19 season and how each team fared and what they accomplished. Best of all, 3View will provide the fans of the NA3HL with an inside look at their favorite team and what to expect.
Gillette Wild
2018-19 Record: 23-21-3, 49 pts. (5th in the Frontier Division)
2019 Playoffs: Did not qualify
Head Coach: Steve Kruk
2019-20 Division: Frontier
The NA3HL's Frontier Division can be an unforgiving one, as the Wild learned last year. Missing out on playoff action after falling short by six points, their total of 49 would have been enough to earn a postseason place in three of the NA3HL's six divisions.
Still, Head Coach Steve Kruk and his players are looking forward to getting back on the ice and regaining their perch among the playoff contenders.
"As a coaching staff, we have centered our 2019-2020 season focus on "unfinished business." Having missed the playoffs last season for the first time in team history last season left a bitter taste. There were several factors that we felt contributed to that. Lack of discipline, lack of compete every single rep of every single practice, etc. However, our group is a year older, a year more mature, and we have been entirely re-energized this off season and that will show on and off the ice in our approach," said Kruk.
The Wild will benefit from keeping a good amount of last year's roster intact. With seven returners ready to erase last year's disappointment, early season matchups will surely be packed full of energy and excitement.
"We will be leaning on all seven of our veteran players heavily. One that has truly grown and matured over the course of the off season was 2002 forward Jacob Kaminski. He has maintained a high level of dialogue with the coaching staff all off season and you could just sense his excitement and passion to get back to work and do things the right way," Kruk said.
Beyond those seven, there was a special focus on finding players with a strong competitive streak as Kruk and his staff built the Gillette squad this year. Players have been and will be made to earn everything they get this year in an effort to ensure each individual fully buys in to achieve team success.
"When we were building our team this off season, the true focus was on the quality of the human being we were bringing into our program. Absolutely they have to be able to play the game at a high level. However, that was truly secondary when we were recruiting this off season. We went after individuals that truly want to be here. Those that we wholeheartedly believed want to compete every single day and those that display zero levels of entitlement. These qualities will shine from our group this season," said Kruk.
Once they find those certain players, the focus shifts to on-ice talent and rounding out players' individual skillsets.
"One of our central focuses will be individual skill development. A vast majority of players do not like skill days, because there are things they are simply not good at. However, if they truly want to get to the next level, there has to be a collaboration to hone in on players' deficiencies to ultimately get them to where they want to go," said Kruk.
As for their place among the locals, a strong mutual appreciation has buoyed the Wild in Gillette. Kruk says "the community embraces this team because the team embraces this community," and this year will be no different.
"The Gillette Wild have always been involved in the community, but it will be substantially more this season than in years' past. We are going to participate in the Walk To End Alzheimer's, Blessings in a Backpack, feeding hungry families at the local soup kitchen, reading books to the elementary students, and much more. Our players also assist on ice with practices for our local youth hockey association, learn to skate, and Blades and Avalanche learn to play hockey programs."
Last season may not have gone how they hoped, but a re-tooled and re-energized Gillette team poses a threat in the Frontier.
Next up: Granite City Lumberjacks