3View: Great Falls Americans
August 24, 2019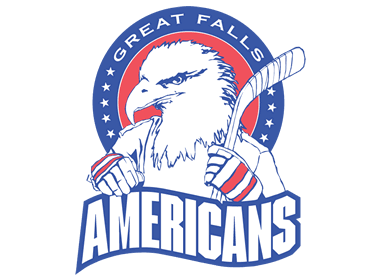 The 3View series will feature an in-depth look into all NA3HL teams in preparation for the 2019-20 season, with two teams being highlighted daily, leading all the way up until the start of the regular season. 3View goes in-depth into each NA3HL team and will include interviews with all the head coaches in the NA3HL, as they provide fans with their expectations and outlook for the 2019-20 season, including taking a look at their potential roster and their strengths as a team for the upcoming season. It will also take a look back on the 2018-19 season and how each team fared and what they accomplished. Best of all, 3View will provide the fans of the NA3HL with an inside look at their favorite team and what to expect.
Great Falls Americans
2018-19 Record: 38-8-1, 77 pts. (2nd in the Frontier Division)
2019 Playoffs: Lost in Division Finals
Head Coach: Greg Sears
2019-20 Division: Frontier
Five seasons ago, the Americans finished the regular season atop the Frontier Division. Since then? Four consecutive years as a top-10 team in the NA3HL, but also four consecutive runner-up finishes in the Frontier. Last year, they fell short by a single point as the Helena Bighorns took home the top spot before knocking off the Americans in the playoffs.
As one of the league's best teams over the last half-decade or so, the Americans have certainly dominated the opposition at times. This year, it's about finding that level of consistency that saw them finish top-10 year after year and applying it game-to-game with a veteran group.
"We expect to pick up where we left off last year. We return 11 guys from a team that won 41 games last year. We hope to return to the Frontier Division championship and take the next step to Chicago," said Head Coach Greg Sears.
Great Falls returns a rock-solid roster, with a stout blue line and a starting netminder that finished tied for 7th in the league with a .933 save percentage. Having players that performed so well for long stretches of last season only to suffer defeat in the postseason adds plenty of fuel to the Americans' fire this year.
"Our solid d-core and goaltending is our strength here at the start. We lost a 100-point guy last year so trying to find some balance up front will be the focus early," said Sears, "Goaltender Viktor Wennberg from Stockholm, Sweden was a top prospect last year and returns. Jack Olson is our top returning forward with 58 points last year. I expect big years from both of those guys."
And while losing a 100-point scorer leaves quite a hole in the offense, Sears understands that player advancement is the key to every team's success at this level.
"(We want to) continue to try to provide the exposure that these kids deserve. Continuing to build relationships with schools and na programs is huge for us. We moved 9 to college hockey last year and hope to do the same this year," he said.
As is the case with other NA3HL teams in tight-knit communities, off-ice efforts are important to drumming up support for the squad, and for personal development of the players as well.
"Our guys do a variety of things in the community. We spend time in the schools helping out in classrooms and reading to kids. We are also involved with the sled hockey program in Great Falls,"
It's shaping up to be quite a year of opportunity for the Americans — plenty of experience and a safety net between the pipes could be enough to carry them back to the top of the Frontier.
Next up: Helena Bighorns