August 26, 2019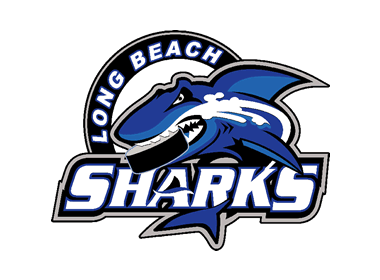 The 3View series will feature an in-depth look into all NA3HL teams in preparation for the 2019-20 season, with two teams being highlighted daily, leading all the way up until the start of the regular season. 3View goes in-depth into each NA3HL team and will include interviews with all the head coaches in the NA3HL, as they provide fans with their expectations and outlook for the 2019-20 season, including taking a look at their potential roster and their strengths as a team for the upcoming season. It will also take a look back on the 2018-19 season and how each team fared and what they accomplished. Best of all, 3View will provide the fans of the NA3HL with an inside look at their favorite team and what to expect.
Long Beach Sharks
2018-19 Record: 15-30-2 (4nd in Coastal Division)
2019 Playoffs: Lost in 1st Round
Head Coach: Bobby Davis
2019-20 Division: Northeast Division
This season, the Long Beach Sharks will be battling in the newly re-formatted Northeast Division after migrating over from the Coastal Division they finished fourth in last year. They will be returning hungry from a playoff appearance that was cut short last season. After only two games in the first round, they were eliminated from the race.
Although they were unable to make it past the first round of the Fraser Cup Playoffs, that did not stop the Sharks from sending some of their players to higher levels of hockey. Noah Carlock and Ryan Gridley both committed to ACHA D1 schools in the MCH conference, while Tyler Roy will be playing D3 hockey at Neumann College.
Long Beach will be losing some key players in their lineup, but Head Coach Bobby Davis is pushing a "next man up" mentality in the locker room.
"This season there are a few guys I am looking at to step up this season. This will be Teddy Valenti's second season, and he made big improvements throughout last season. I am expecting him to continue to improve and be an impact player game in and game out. Chris Wracker has a lot of junior experience and I am looking for him to have a big leadership role," said Davis.
But the vets can't do it all themselves. An influx of youth will be key to Long Beach's success this year.
"Matt Barns is a first-year player with next-level speed and good puck skills. He is a player that is expected to be seen on the score sheet a lot," he said.
Coach Davis strategically selected his players and says he "put the team together by focusing on having a balance between age versus youth and speed versus size."
By focusing on creating a balanced team with a strong leadership core, Coach Davis wants to see his squad take another step in their development as a team.
"This season we we would like to see our team take a step forward from last season by making the playoffs and then advancing to at least the second round (of the playoffs."
Davis "promotes a next level mindset on and off the ice for his players on a daily basis". In order to excel at the next level, players must train and be held to next level standards no matter their current situation. Coach Davis "takes pride in his demanding high level, high pace practices and pro level skills training."
To ensure he gives his players the best opportunity to be successful, each week Davis dissects team and individual performances to help his players see on a personal level what needs to improve.
"I take pride in our on ice high-level, high-pace practices, and pro level skills training. We break down and peel back each weekend on what we did well and how to fix what we didn't do right," said Davis.
Winning a championship is always the top goal, however making sure Davis's players are ready to perform at the next level is just as important to him.
Davis also believes in serving the community. The Long Beach Sharks "organization has a youth program that its players are involved in helping with."
"We make sure we appreciate that we are in the game and try to give back to the youth players in our program," said Davis.
Whether it's on the ice or off the ice, Davis holds his team to next-level standards that will hopefully pay off in getting his team into the Fraser Cup Playoffs again this upcoming season.
Next up: Louisiana Drillers