3View: Louisiana Drillers
August 26, 2019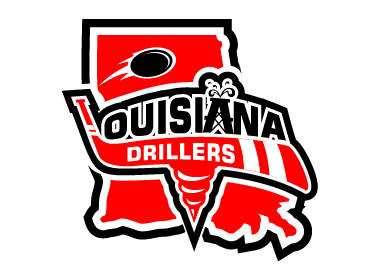 The 3View series will feature an in-depth look into all NA3HL teams in preparation for the 2019-20 season, with two teams being highlighted daily, leading all the way up until the start of the regular season. 3View goes in-depth into each NA3HL team and will include interviews with all the head coaches in the NA3HL, as they provide fans with their expectations and outlook for the 2019-20 season, including taking a look at their potential roster and their strengths as a team for the upcoming season. It will also take a look back on the 2018-19 season and how each team fared and what they accomplished. Best of all, 3View will provide the fans of the NA3HL with an inside look at their favorite team and what to expect.
Louisiana Drillers
2018-19 Record: 33-12-2 (2nd in South Division)
2019 Playoffs: Lost in Division Semi-Finals
Head Coach: Tyler Barr
2019-20 Division: South Division
After making their first Fraser Cup Playoff appearance in franchise history last season, the Louisiana Drillers are ready to make another run for the cup this season. Louisiana finished the 2018-2019 Regular Season in 2nd place of the South Division, behind the eventual Fraser Cup Champions, the Texas Brahmas. With the taste of last year's Fraser Cup Playoffs still fresh in their mouths, the Louisiana Drillers expect nothing less than to make playoffs again for the second time in franchise history and second year in a row. However, this year Head Coach Tyler Barr and The Drillers have their sights set farther than just making playoffs.
"We want to be better than last year. We are always trying to improve. We did a great job committing players to college last season, but I would like to see our team improve our regular season stats and move on past the first round of playoffs", Barr responded as to what he would like to improve on from last season.
Last season Louisiana sent players Tucker Alspaugh and Mitch Dolese to play NCAA D3 hockey at Franklin Pierce. From finishing fifth place in a six team South Division in the 2017-2018 season, to finishing second overall in last year's regular season, The Drillers may have a new found formula for success.
Coach Barr has made it a priority to build a team culture based on "accountability, structure, and putting your team first," which he believes has been a key factor in their success.
"Everything starts with the leadership of the coaches and trickles down to the rest of the team," he said.
With everyone in the organization buying into Barr's ideals, he has been able to establish his team culture.
Barr also believes in giving back to the community as a way of growing the culture he is creating.
"Our team works with youth hockey and learn to skate every week. We are also out in the community working with schools and hospitals. Any extra time we will volunteer with multiple non-profits around Lafayette and do our part to give back to the community," he said.
By giving back to the community, the players see how lucky and blessed they are to have the opportunity to be able to play the sport we all love every day of their lives.
Along with his supporting staff, Barr has many returning players who represent and support the culture he expects his team to follow on and off the ice.
"We have a large amount of returning players that I have higher expectations for this season, but the new ones aren't off the hook either," Barr said. He emphasizes the importance of accountability as a key component to success, reinforcing that "everyone needs to be on the same page and know their jobs."
However, Barr does not mark team success just by wins, but more importantly by how well the organization develops its players to be successful in the next endeavor of their life.
"The team does a good job getting players ready for the next level, whether that be building their school resumes or putting them in front of NA teams during the season," he said.
Whatever the player's next step may be, the organization is always there to make sure that their players are prepared.
Louisiana's strong team culture has proven successful after the past season. However, they will have to play in a tight South Division that hosts the reigning Fraser Cup Champion. We will see if the Drillers will be able to use their strong team culture to overcome any obstacles thrown in their way and make it further into playoffs than ever before.
Next up: Maine Wild