3View: Mid Cities Jr. Stars
August 27, 2019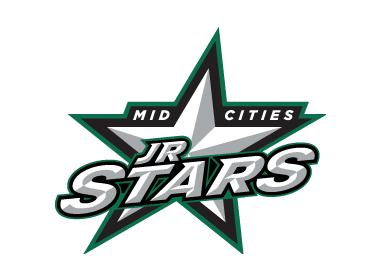 The 3View series will feature an in-depth look into all NA3HL teams in preparation for the 2019-20 season, with two teams being highlighted daily, leading all the way up until the start of the regular season. 3View goes in-depth into each NA3HL team and will include interviews with all the head coaches in the NA3HL, as they provide fans with their expectations and outlook for the 2019-20 season, including taking a look at their potential roster and their strengths as a team for the upcoming season. It will also take a look back on the 2018-19 season and how each team fared and what they accomplished. Best of all, 3View will provide the fans of the NA3HL with an inside look at their favorite team and what to expect.
Mid Cities Jr. Stars
2018-19 Record: 21-24-2 (4th in South Division)
2019 Playoffs: Lost in first round
Head Coach: Tommy Train
2019-20 Division: South Division
The Mid Cities Jr. Stars were riding high as they battled their way into the South Division's semi-final round of playoffs last season. However, their playoff trek was quickly derailed by the reigning Fraser Cup Champions, the Texas Brahmas, after two games. It would be an understatement to say that the Stars will be out for revenge in what is the close-knit South Division.
In order to return to playoffs this upcoming season, Coach Train has selectively picked his players based on strengthening specific aspects of his team. "Every year is different building a team. A lot of factors come into play depending on returning players and new additions. This year we really focused on the back end and improving our defense," said Train.
In order to sustain the culture that Coach Train has built with the Stars, he will rely on some of his veteran players to lead by example in showing the new players the commitment that is expected from them daily. However, this intensity and dedication is not only applied on the ice, but off of the ice too, where the Stars are greatly involved throughout the schools and community.
"Our team is involved with the local schools. During their free time, players will attend different school events, attend reading classes to read to the students, and even participate with the kids in gym class," Train said. "It is a great opportunity for the kids to interact with the players that they look up to, as well as providing a humbling experience to the Stars players."
Coach Train is a big believer in preparing for the next level. He conducts his practices with high expectations and holds his team accountable to next level standards, which is how he creates next-level results for his team.
"Every week we work on individual skills such as, stick handling, shooting, and over speed drills. I also put players in situations that require quick decision making with the puck, to simulate higher level play," said Train. Last season, the Stars had two college commits. Riley Jensen will be playing NCAA D3 at the University of Wisconsin – Stout of the WIAC conference, while Josh Linn will be playing at Lindenwood University in the CSCHL.
Coach Train's style of practice ensures that his players will be ready to play against the best teams in the league, as well as ensures that his players will be successful in the next level of their careers.
You can expect a much tougher and defensively sound Mid Cities team due to the emphasis Coach Train has put on that side of recruiting and development. The Mid Cities Jr. Stars are definitely a team to keep an eye on, as they are expected to make large improvements as the season goes on.
Next up: Milwaukee Power