3View: Northeast Generals
August 31, 2019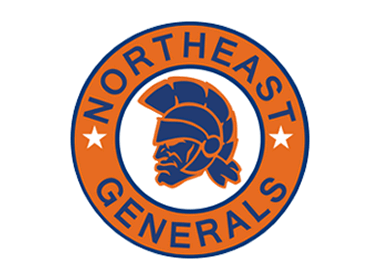 The 3View series will feature an in-depth look into all NA3HL teams in preparation for the 2019-20 season, with two teams being highlighted daily, leading all the way up until the start of the regular season. 3View goes in-depth into each NA3HL team and will include interviews with all the head coaches in the NA3HL, as they provide fans with their expectations and outlook for the 2019-20 season, including taking a look at their potential roster and their strengths as a team for the upcoming season. It will also take a look back on the 2018-19 season and how each team fared and what they accomplished. Best of all, 3View will provide the fans of the NA3HL with an inside look at their favorite team and what to expect.
Northeast Generals
2018-19 Record: 33-12-2 (2nd in Coastal Division)
2019 Playoffs: Lost in Division Finals
Head Coach: Darryl Locke
2019-20 Division: Coastal Division
Back-to-back seasons of division semi-final defeats finally gave way to a division finals berth last season, where the Generals fell to the New England Stars. But Northeast's habit of improvement continued, and General Manager Bryan Erikson hopes their victorious habits remain in the new year.
"Win. We always want to put ourselves in a position to win. This is our 5th year as an organization and we have set a franchise record for wins each and every season. We finished 5th, 4th, 3rd and 2nd in the past 4 years and are looking to move up one more spot, capture that Division title, and move on to the Fraser Cup," said General Manager Bryan Erikson.
A key to the Generals success this season will be the strong leadership and intensity provided by their returning captain and veteran players, as well as their ability to find the back of the net.
"We return a few guys and have very big expectations for them. Stevie Gerbis returns and is our Captain. We expect him to obviously be great in the locker room but also put up some big numbers. The same can be said for our other returns. We return our starting Goalie John Driscoll along with Forward Robby Beck and D men, Colin Day, Deacon More and Josh Dimond. There will be a lot of expectations put on them to show the new players how we do things and to be productive on the ice," Erikson said.
As they do every year, the veteran Generals will play a crucial role this season, but Erikson and Head Coach Darryl Locke still plan to introduce new ideas and new tactics to each new roster. They believe in tailoring their team's systems around their players' strengths to formulate the best possible team they can.
"Each year brings its own set of challenges. You need to adjust your style to the talent you have around you. Last year we were explosive from a speed standpoint. The year before we were very very physical. This year we are looking to create on own identity centered around being responsible in all 3 zones and taking care of the puck," Erikson said.
A new season certainly does bring fresh faces and a renewed plan of attack, but so far, each squad has been more successful than the team prior. This can be attributed to the Northeast Generals fantastic organizational structure, which includes a team at the NAHL level. Having teams at more than one level, like the Generals do, is definitely an advantage for their players that want to move on to higher levels of hockey. It also helps in putting together a strong Fraser Cup contending NA3HL team.
"We are pretty fortunate here that we also have an NAHL team, so our kids get amazing exposure. They get the chance to practice with them a lot during the season, and last year we had 3 guys play in games for the NAHL team. We also saw one of our Captains, Thad Marcola, get tendered by the Generals and Koyle Bankauskas get drafted by the Generals. We also moved 2 other players onto higher levels of Junior hockey. We want our kids to move up. Whether that is College or higher levels of Junior hockey, we just want them to be successful," Erikson said.
Along with promoting continual growth as an organization, Erikson believes in assisting as a community prosperity as well.
"Our kids are always in the community. We have a great relationship with the town of Attleboro, the Habitat for Humanity, and the local schools. It is very important that our guys are constantly giving back to this great community."
With their ever-evolving systems play and their returning leaders, along with a history of annual improvement, the Generals are shaping up to be a difficult team to play against this upcoming season.
Next up: Peoria Mustangs